Which Volkswagen is right for me?
It's one of the nation's best loved car marques, renowned for quality and style, so much so that some drivers wouldn't dream of buying from another motor brand...
...so, if you're thinking of buying a Volkswagen, you're in good company!
The tough part is deciding which car to buy. because there really is a VW to suit every need, budget and style preference but how familiar are you with the whole Volkswagen range?
At Swansway Group's Volkswagen centres in Crewe,Wrexham and Oldham, we're eager to show off our vehicles and demonstrate just why they are amongst the UK's favourites. Sit back and enjoy the ride while we point out some of the finer features of the beloved VW to help you decide which you should buy.
---
up!
Engine from: 1.0 litre 59 bhp
Efficiency: 51-55 mpg combined
CO2 Emissions: 105 g/km
Boot Space: 251 litres
Insurance Group: 1
Top Speed: 99 mph
This impressive little city car has been a big hit all round since it first appeared on our roads in 2011. Available in 6 different specification levels, the Volkswagen up! comes with everything from an adjustable steering wheel to heated seats with an electric version thrown in for good measure.
At just 3.6m long and yet spacious enough to accommodate 4 adults comfortably, the up! Is more of a TARDIS than a car!
A dream to park and cheap to insure, the up! is the perfect choice for anyone who spends a lot of time in a city. Pick your model from the whole up! range and appreciate what a truly clever little number this is.
---
Polo
Engine from: 1.2 litre 60 bhp
Efficiency: 60.1 mpg (combined)
CO2 Emissions: 106 g/km
Boot Space: 280 litres
Insurance Group: 3
Top Speed: 100 mph
The Polo provides all of Volkswagen's solid build and innovative technology in one tidy package. Rear view camera, driver alert system and intelligent braking makes this supermini a doddle to drive.
A flexible, practical interior space with split fold seating and variable boot floor level allows for comfortable passenger and kit transport. Opt for the GTI for that extra bit of oomph.
The raft of safety features make the VW Polo an excellent starter car for newly qualified drivers. Explore the whole Polo range and decide which model is your favourite.
---
Golf
Engine from: 1.2 litre 85 bhp
Efficiency: 57.6 mpg (combined)
CO2 Emissions: 113 g/km
Boot Space: 380 litres
Insurance Group: 7
Top Speed: 111 mph
Second only to the Beetle for its iconic status, the Golf is a car with hidden talents. With so many options to choose from, you really can make this superhatch your own - a benefit of being honed to perfection through the last 40 years of production.
Improvements include a centre console angled towards the driver and adaptive cruise control to warn you if you are approaching the car in front too fast.
With all the room you'll need for a partner, a couple of kids and a dog, the Golf makes a superb small family car. Investigate all that the VW Golf range has to offer by visiting the Swansway Volkswagen dealership in person or online.
---
Arteon
Engine from: 1.5 TSI `150PS 6-speed manual
Efficiency: 54.3 mpg (combined)
CO2 Emissions: 119 g/km
Boot Space: 563 litres
Insurance Group: 21
Top Speed: 138 mph
Aerodynamic contours, frameless windows, a striking rear design – the Arteon's allure endures far beyond the first encounter. The R-Line features additional exterior highlights that emphasise these dynamic elements.
The Arteon's elongated contours and long wheelbase give it a highly distinctive profile – and an abundance of space wherever you are seated. The wrap-around bonnet and frameless side windows are especially eye-catching and exude quality and elegance in the style of a classical fastback saloon.
The look-and-feel of the cockpit in Arteon's new R-Line trim is truly inspirational. The multifunction, leather sports steering wheel bears the "R-Line" badge and boasts decorative stitching; it is complemented by "Silver Rise" inlays in brushed aluminium. The standard "ergoComfort" seats in "Nappa" leather with "carbon-style" inner faces of the side sections and decorative stitching and braiding, not to mention the "R-Line" badge embroidered into the front seats make each ride a feast for the senses.
Find out about the Volkswagen Arteon and contact us to book a test drive.
---
ID.3
Electric range: up to 336 miles
CO2 Emissions: 0
Boot Space: 385 litres
Insurance Group: 27
Top Speed: 99.42 mph
New to the Volkswagen family, the ID.3 is part of the VW electric range which also consists of the ID.4 and ID.Buzz. If you are ready to make the switch to electric, this car may be for you!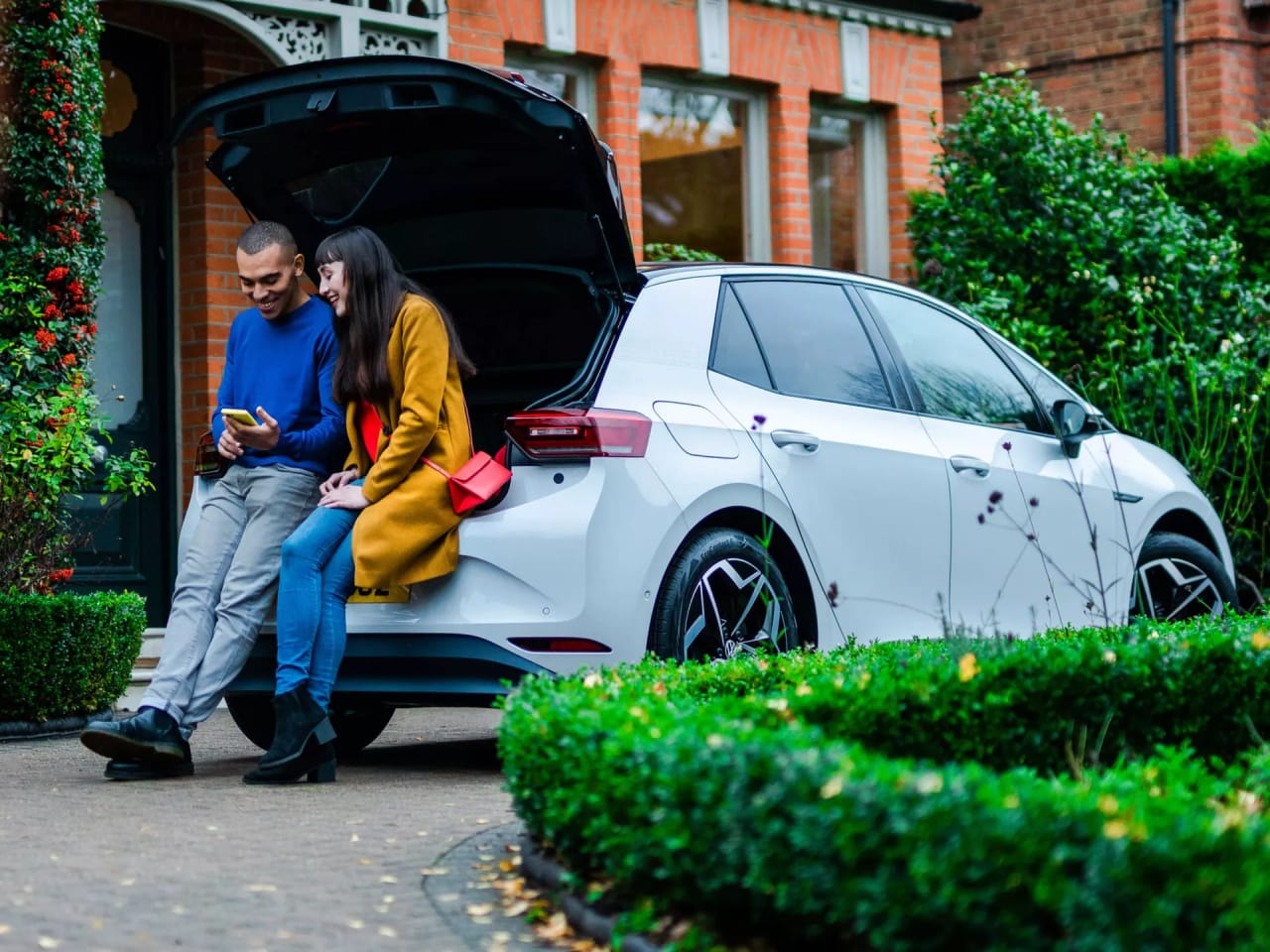 When it comes to rule-breaking new cars, the ID 3 is right up there. It's Volkswagen's next-generation electric hatchback, and it's one that the firm hopes will take EV ownership right to the heart of the mainstream. As you'd imagine there's a lot to learn about it, discover more about the VW ID.3 today!
---
T-Roc
Engine from: 1.0 TSI 115PS 6-speed manual
Efficiency: 55.4 mpg (combined)
CO2 Emissions: 117/km
Boot Space: 445 litres
Insurance Group: 11
Top Speed: 116 mph
You want a car that's as confident as you are, that challenges the status quo, leading the pack and refusing to follow. An SUV with bold, striking design baked into every angle and line. With all the advanced technological features you need to feel like you rule the road.
Personality that packs a punch: the T-Roc is powerful, detail-obsessed and avant-garde. The bold front design and side panels create a strong, confident appearance, while the sporty coupé silhouette elongates the compact SUV.
The TSI petrol engines for the new T-Roc pack a punch, refusing to compromise between power and efficiency. You benefit from maximum torque even at low engine speeds. Or choose the economical TDI diesel engines with turbocharging and direct fuel injection - their high torque means sporty performance is guaranteed. The optional Sport pack, featuring sport suspension, offers added driving pleasure with outstanding handling. That's because it provides you with a finely tuned suspension, dampers and stabilizers. As a result, you can harness the T-Roc's full performance, while still keeping control. The progressive steering in the Sport pack gives you better control when driving dynamically and means that day-to-day driving becomes a pleasure.
See all there is to know about the Volkswagen T-Roc here.
---
T-Cross
Engine from: 1.0 L 3-cylinder
Efficiency: 43-49 mpg (combined)
Boot Space: 455 litres
Insurance Group: 8
Top Speed: 124.3 mph
Part of the VW SUV family, the T-Cross provides the excellent handling of a hatchback, with the added storage space and comfort of an SUV. With front assist and lane assist as standard, you can be rest assured the T-Cross will keep you in safe hands.
The VW T-Cross is a fantastic vehicle for families and holds many fantastic technological features, all to aid you in making your journeys easier and more enjoyable.
---
Touran
Engine from: 1.2 litre TSI 1110 bhp
Efficiency: 52.3 mpg (combined)
CO2 Emissions: 126 g/km
Boot Space: 743/137 litres (5/7 seats)
Insurance Group: 13
Top Speed: 117 mph
Along with an impressive number of cubby holes and storage compartments, fold flat rear seats make the VW Touran equally practical for business or family life. Built to last, this sturdy MPV will go on and on and on…
For a car of this size, even the smaller engines return a relatively good mpg, great for those sticking to a budget. Safety is very well considered too, with features such wide orange blind spot indicators adding extra re-assurance required when driving a full car.
The Touran is very well-suited to anyone who needs to accommodate numerous passengers as well as decent sized loads, perhaps a parent who also runs a business.
Take a closer look at the Touran by visiting the Swansway Volkswagen dealership in your region.
---
Tiguan
Engine from: 1.4 litre TSI 125 bhp
Efficiency: 46.3 mpg (combined)
CO2 Emissions: 139 g/km
Boot Space: 502 litres
Insurance Group: 11
Top Speed: 118 mph
The Volkswagen Tiguan SUV is great on all kinds of terrain and has a more refined look, both inside and out, than many of its competitors. The high seating position allows the driver to command the road and contributes to the excellent safety rating, as do the optimised head restraints and copious airbags.
Independent reviews have rated the VW Tiguan highly for both comfort and performance, which is perhaps why it's the 3rd best selling Volkswagen (behind the Golf and Polo).
However, with a huge range of optional extras such as swivelling towbar, wireless phone charger and the R-line sporty trim, you'll have the chance to make this motor your own.
If you're keen on the outdoors, grab your kit, some friends and family and discover the Tiguan range today.
---
Passat
Engine from: 1.6 litre TDI 120 bhp
Efficiency: 70.6 mpg (combined)
CO2 Emissions: 105 g/km
Boot Space: 585 litres
Insurance Group: 15
Top Speed: 128 mph
One of the most spacious saloons on the market, the Volkswagen Passat combines luxury and practicality. It's rammed full of technology including electromechanical speed-sensitive power steering and automatic activation of hazard warning lights during heavy braking.
With excellent fuel efficiency for a large car, this is definitely a motor to consider for long and/or regular trips, providing a pleasant home from home .
For those seeking to impress, the Passat makes an excellent business car that provides comfortable cruising and noticeable elegance, with enough space to fit the family too! For additional loading space, choose the estate option which will allow you to accommodate both business and leisure in one vehicle.
Shop for your new Passat at your local Swansway Volkswagen dealership.
---
Sharan
Engine from: 1.4 litre TSI 150 bhp
Efficiency: 39.2 mpg (combined)
CO2 Emissions: 167 g/km
Boot Space: 711/300 litres (5/7 seats)
Insurance Group: 19
Top Speed: 122 mph
Space, space and more space is the order of the day with the Volkswagen Sharan and its 7 full-size seats plus huge boot capacity.
Often style and trim are sacrificed for MPV practicality. Not the case with the VW Sharan which manages to feel more expensive than some challengers and handles like a much smaller vehicle.
Ideal for large families, there's enough room for all the kids and a friend or two, as well as all their associated gadgets. Sliding rear doors and ISOFIX fittings throughout make child seat installation a piece of cake, and with decent speed and power you can take that same cake and eat it!
---
Touareg
Engine from: 3.0 litre TDI 262 bhp
Efficiency: 42.8 mpg (combined)
CO2 Emissions: 174 g/km
Boot Space: 580 litres
Insurance Group: 42
Top Speed: 140 mph
For solid power, it's difficult to beat Volkswagen's Touareg which manages to maintain relatively decent fuel efficiency, CO2 emissions and speed for a 4x4 of this size.
Volkswagen's 4-wheel drive, 4MOTION and interior luxury comes as standard along with a raft of features designed to make taking charge of this, the largest in Volkswagen's range, an exciting prospect. Electronic stabilization, lane assist, rearview camera and adjustable air suspension make the VW Touareg a suitable option for both on and off road.
Suited to those looking for nothing but the best, the Touareg is, quite simply, a statement of style, quality and social standing. You'll probably be mature and looking for a sensible, practical ride for you, your partner, your children or grandchildren, some golf clubs and maybe a dog or two!
Tempted? Investigate the Touareg further at your local Swansway Dealership.
---
We've surely given you food for thought. Why not pop down to your nearest Swansway Volkswagen centre to continue your research over a brew and a chat with one of our helpful advisors? Find the right VW car for you today!
---