What's under the bonnet can often make or break a deal when it comes to buying a new car. Fortunately, the new Land Rover Defender's engine range is not only comprised of units which offer an almost-perfect blend of performance and economy, there's also a good variety available. This means there's sure to be one engine to suit everyone.
What's more, additional units are very likely to join the line-up as time goes on. For now, here's what buyers can choose from…
---
V8-powered Defender (2021) - 5.0 - litre 518bhp petrol
In March 2021, Land Rover introduced a new high-performance V8-powered version of its Defender.
Badged as the Defender V8, the off-roader brings 518bhp to the table and 625Nm of torque from its 5.0-litre petrol unit. It means the Defender can go from 0-60mph in just 4.9 seconds and hit a top speed of 149mph.
It can be optioned in either 90 or 110 bodystyles and retains the regular car's all-wheel-drive system. However, a number of upgrades have been incorporated into the car's design in order for it to deal with the added performance.
There are larger-diameter and solid anti-roll bars to increase vehicle stiffness and aid cornering, while the 'dynamic' drive mode has been retuned in order to deliver better throttle response. The suspension has been stiffened, too.
In terms of exterior design, the Defender V8 brings 22-inch wheels, quad-exit exhausts and blue brake calipers which help differentiate it from the rest of the range. Inside, you'll find Ebony Windsor leather upholstery, an Alcantara-trimmed steering wheel and chrome gearshift paddles.
Prices for the Defender V8 will start from £98,505 for the 90, rising to £101,150 for the 110.
---
2.0-litre 197bhp diesel (D200)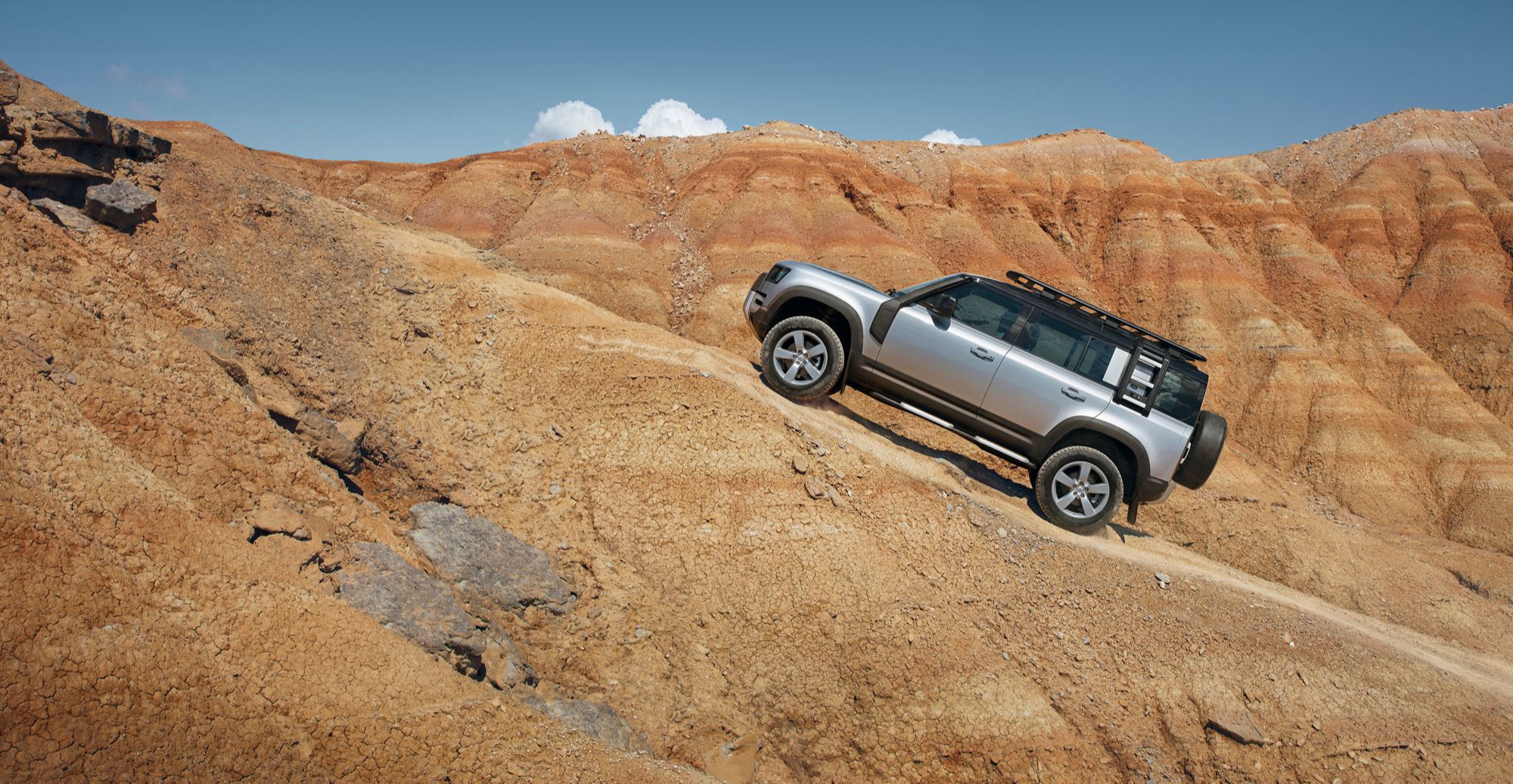 Available with the entry-level Defender, this 2.0-litre diesel unit offers the least horsepower – 197bhp to be exact – but still provides plenty of punch. The engine's badged as the D200.
---
2.0-litre 237bhp diesel (D240)
For buyers after a tad more performance, however, not masses as to add significantly to the price tag of the vehicle may want to look at this option. The 237bhp 2.0-litre diesel, called the D240, is offered with both the base Defender 110 and First Edition variants.
---
2.0-litre 296bhp petrol (P300)
If petrol power is preferred, fear not, as there are a couple of units to choose from in this department, including this 296bhp motor. The engine, known as the P300, can be opted for with the base 110 as well.
---
3.0-litre 395bhp petrol (P400)
This engine, badged P400, is only available with the 110 X version of the model, which sits right at the top of the line-up. With an impressive 395bhp on tap from a 3.0-litre unit, it's pretty rapid and is the pinnacle of performance in the current Defender range.
---