We know that every family is different, and that's why we have a huge selection of family cars for you to choose from. We all have different requirements, but with such a wide choice, you can be sure to find the best family cars at Swansway Group - and just the right family car for your particular needs.
Whether you need cars with the latest gadgets to keep the kids entertained on long journeys, 7 seater family cars to keep your whole brood in comfort, or cheap family cars that will be economical to run, we've got it all. Here are our top picks for the best family cars on the market today…
The Citroën Grand C4 SpaceTourer is the perfect choice for the best large family car - you simply can't outgrow this vehicle. Even when your tiny toddlers turn into long-legged teenagers, there's still plenty of room. And if you decide on just one addition to the family and end up with the wonderful surprise of triplets, you'll still be fine with the Grand C4 SpaceTourer's 7 spacious seats with Isofix fittings on all three middle row seats.
It has an incredibly comfortable interior with lots of smart additions for the grown ups too, such as fold out footrests and extra support headrests. A panoramic roof comes as standard, adding an airy feel to the car, so it doesn't feel cramped even when full to capacity. There are plenty of tech features that would certainly make this MPV a real contender for the best family car. You'll get 360° parking sensors, sat nav, DAB radio, Apple CarPlay and Bluetooth all as standard. There's also plenty of 12V chargers in the front, middle and boot of the car so everyone can charge up their gadgets on the move.
Fuel economy is pretty decent, and the price point of the Grand C4 SpaceTourer is impressive when you look at other similar vehicles, so for anyone looking for a comfortable 7 seater family car without spending a fortune, check out the Grand C4 SpaceTourer as it's one of the best value family cars around.
You spent all your younger years driving gorgeous sports cars, but now you've got a family what do you do? You just don't feel ready to have a sensible family car. You could buy a sporty little number as a second car, but then you've got to have somewhere to keep it, and if you're only using it occasionally, it's an expensive luxury. Is there such a thing as a family sports car? We have the perfect solution for you - the Jaguar F-Pace. With stunning sporty looks, it's also really practical as a family car. The best of both worlds!
The F-Pace is the first SUV from Jaguar and we think they've really nailed it. It's got that sporty, luxury feel you'd expect from a Jaguar, it's a joy to drive and yet it's really spacious for the family. It's well worth taking the F-Pace for a test drive as it's more roomy inside than it appears from the outside. You're seated low in the car, so headroom is deceptive. Even adults won't find the rear seats uncomfortable. In addition, you've got loads of boot space. 650 litres or 1740 with the rear seats folded down. The family sports car really does exist, so come and check it out!
If your idea of the perfect family life is getting out and about in the great outdoors, then take a good look at the all-new Land Rover Discovery. It's perfectly suited for the best family car expeditions, wherever they may take you. This car really does have it all. When it comes to driving off-road, the Discovery really excels, giving you the control you need to keep your family safe when you're out in the countryside.
With air suspension as a standard feature on the Discovery, you won't have to put up with a bumpy ride and there's also plenty of space for your family and all your luggage. If you've ever been in a Discovery before, you'll notice, that the New Land Rover Discovery is even more spacious than before. This is due to the new aluminium chassis which gives way to a larger interior. There's loads of legroom, so it's a really good choice if you have gangly teenagers. Interior storage is also good - no matter where you sit, there's a cunningly located compartment to hand.
So if you're looking for loads of space and great off-road capability, this could well be the perfect car for you. It's definitely one of the best family cars for an adventurous family!
If you and your family love technology and gadgets, you must check out the Audi Q7. The Q7 is the largest Audi SUV so it's ideal for families with the perfect balance of practicality, comfort and style. As another fabulous 7 seater family car, it's great for all the kids and a few friends too, making it a frontrunner for the best large family car. Plenty of headroom means that even the tallest offspring will be comfortable. One great feature is that you can slide the middle row of seats forward and backwards, so you can choose whether you want more leg room, or extra boot space.
There's plenty of tech as standard, but there are also some great options for even more gadgetry such as the Virtual Cockpit which replaces dashboard dials and the Connect Infotainment Services which give you access to a variety of apps and features. Go for this option, which requires a monthly subscription, and you'll get 4G Internet access in the car wherever you go. The kids will love you for it, especially as there are detachable touch-screen tablets built into the back of the seats. This is one of the best family cars for tech heads, young or old!
When we think about the best family cars we tend to think of the big 7 seater family cars, but unless you've got a huge family or regularly take extra people out and about with you, a 7 seater family car could be an extra expense you just don't need. There are plenty of comparatively small family cars out there that are both family-friendly and good value, and the SEAT Ateca is a great example.
The first thing you notice about this SUV crossover is the styling, it really is a nice looking vehicle. Of course, while it's great to have a good-looking car, it's the practical stuff that's the most important, and the Ateca has all that too. It handles really well and it's also cheap to run, making it one of the best value family cars. The seats are spacious and comfortable, and there's loads of headroom, perfect for when your kids are growing and showing no sign of stopping! At 510 litres there's enough room in the boot for all your needs and you have peace of mind with a full five star Euro NCAP crash test rating - a must for the safest family cars.
If you've ever thought of the best family cars as boring, once you take a look at the beautiful Peugeot 3008 you might think differently. The good looks continue on the inside with the high quality dashboard featuring Peugeot's innovative i-Cockpit 12.3 inch display. You'll get built in TomTom Live sat nav as well as Mirror Screen software which enables you to quickly link up your smartphone to your vehicle.
The 3008 is deceptively spacious, take a seat in the back and you'll see what we mean. There's loads of legroom and really good headroom, so even adults will be comfortable in the back of this car. You also get a huge 591 litre boot which will easily fit a whole family's luggage or camping gear in. Also awarded as one of the the safest family cars by What Car? - the Peugeot 3008 SUV has it all!
For the ultimate in family flexibility, you might want to consider the Volkswagen Caddy Maxi Life. Don't be fooled into thinking that this tardis of a car lacks comfort just because it's part of the VW Van range! Air conditioning, heated windscreen and rear window, navigation and infotainment system provide you with all you need for a relaxing drive, wrapped up in a stylish, quality VW MPV.
With 7 seats that can be folded down or even removed for the ultimate in versatility, the Caddy Maxi Life can lead a double life - perfect for use as a business vehicle during the week (providing up to 3,030 litres of loading space) as well as providing all the room you need to transport a family during leisure time. Sliding doors make accessibility easy for young and old alike while conveniently situated storage compartments in doors, the central console and a shelf above the driver mean passengers will never have to reach too far for a snack or essential toy.
These are just some of the best family cars we have on offer here at Swansway Group. Take a look at how they measure up side by side:
At Swansway Group, you can buy your next car from the comfort of your home. Or, reserve the vehicle of your choice with a fully refundable deposit. Finding the perfect family car has never been simpler.
Other Cars Which Would Be Perfrect For Families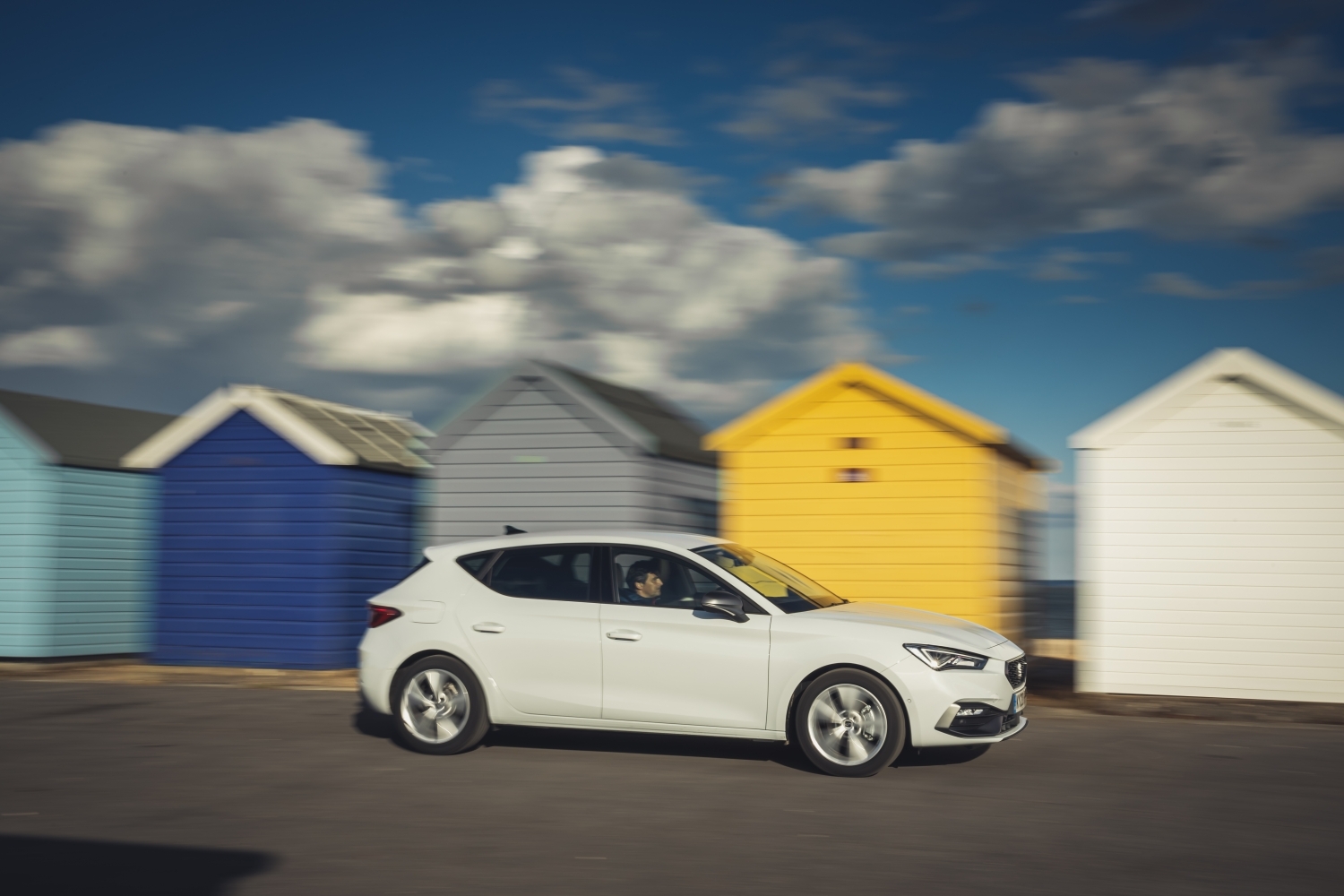 SEAT Leon
SEAT's latest Leon is by far one of its most impressive products to date, combining excellent refinement and a spacious, well-made cabin with SEAT's excellent approach to value for money. It could be the perfect family car, in fact.
Available as in both hatchback and estate variants, the Leon is a car which delivers on all aspects of family car requirements.
---

Land Rover Defender
Fancy something with a little more flair? The Land Rover Defender could be the choice for you, then. With a robust interior that you'd expect from Land Rover, the new Defender is arguably one of the coolest options in the family car segment.
There's also the option for seven seats, while an efficient range of engines mean there's plenty of choice when it comes to powertrains, too.
---

Peugeot e-208
Though the electric Peugeot e-208 might be on the smaller end of the car spectrum, it's a car which has been designed with practicality in mind. Plus, an electric powertrain will help to drive down fuel bills which is something that many families will appreciate.
Good looking and great to look at too, the e-208 is one of the most well-rounded EVs we've seen so far.
---
Volkswagen Touareg
Volkswagen's latest Touareg is a big, comfortable and well-finished SUV and is a car which seems set from the off to be a good choice for families. It's packed with technology too, as well as a vast suite of safety assistance systems which will no doubt provide extra peace of mind to families.
A huge boot means there's space for all occasions while the interior has been solidly built too.