The Audi Q2 is a compact SUV, it sits on the smaller end of the SUV spectrum. However, its small stature hasn't stopped it from becoming a popular model on the Motability Scheme. The Q2's powerful drive and innovative technologies guarantee convenience and fantastic fun.
The Audi Q2 is approximately 4.2 metres in length and 2 metres in height. It also stands at 1.5 metres high with a ground to sill height of around 120cm. Something to consider if getting in and out of vehicles is something you or your passengers struggle with.
Competing with the likes of the BMW X2, Mercedes-Benz GLA, Nissan Juke, and Jeep Compass, the Audi Q2 provides space, practicality and a comfortable road height. It is a much sought after vehicle offering 'cool' yet 'classy' features and the luxurious Audi badge.
The Audi Q2 is available in specifications, known as trim levels. We've gone into detail on each trim level available on the Motability Scheme so that you can understand which one suits your needs best. It is also worth mentioning that each available trim level offers an engine option that is available to Motability drivers under 25 years old.
Technik
Highlights include:
LED headlights
Electric boot opening
Cruise control
Auto-dimming rear view mirror and door mirrors
Electric lumbar support in the two front seats
The Technik trim level is the baseline for the Audi Q2. With the Technik, you can enjoy some of the latest features and technology including an electric tailgate (boot opening) which makes it easy to access when your hands are full or if heavy lifting or high level reaching are difficult for you. Light up the road clearly with LED headlights, and benefit from Cruise Control on long journeys.
A choice of solid, pearl and metallic paint finishes allow you to make the Audi Q2 your own.
The 30 TFSI Technik manual model is available for drivers under 25 years of age.
Sport
In addition to the features of the Technik, Sport highlights include:
MMI Navigation Plus with MMI Touch
Audi Virtual Cockpit
Audi Connect Remote & Control
Front sports seats
Packing a bit more punch, the Audi Q2 Sport has MMI Navigation Plus. MMI stands for Multi-media interface, essentially it is the hub of the car on a touchscreen display where you can control all things like the radio, Bluetooth connections with your phone, satellite navigation, Apple CarPlay and Android Auto, and vehicle settings including tyre pressures, service indicators and more.
Also added is the award-winning Audi Virtual Cockpit. A single screen just above the steering wheel where you would see a speedometer and fuel gauge. The driver can choose what is displayed from navigation instructions to maps to media.
The 30 TFSI Sport manual model is available for drivers under 25 years of age.
S Line
In addition to the Technik and Sport features, the S Line highlights include:
18 inch alloy wheels
S Line exterior styling pack
S Line 3-spoke leather-trimmed multifunctional steering wheel
Stylish foot pedals in stainless steel
You can also upgrade your two front seats to the Audi S Line embossed front sports seats in leather and Alcantara fabric.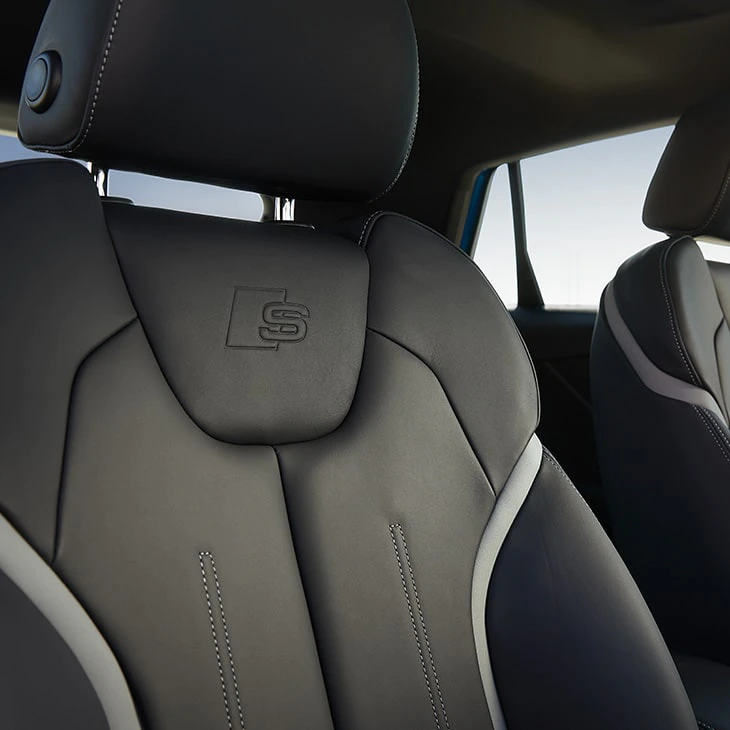 The S Line is the sportiest looking Audi Q2 model available on the Motability Scheme and is available in a choice of colours with the addition of the popular 'Daytona Grey' pearl effect and 'Turbo Blue' solid paint finish.
The 30 TFSI S Line manual model is available for drivers under 25 years of age.
Like many other manufacturers and other sectors of the automotive industry, Audi are experiencing some supply chain issues and a few of their model components are in short supply, in particular those relating to semi-conductor chips, which have reduced production capacity at their factories. This means delivery times for some Audi models are longer than we would normally expect. Your Swansway Audi Centre will be able to advise of current wait times.
This information is correct as of January 2022.