Peugeots introduction of its new Peugeot Sport Engineered (PSE) brand
---
Car manufacturers love to have a halo product. Think the Volkswagen GTI or Audi's RS models - they all sit at the very top of the range and show what can be done. Peugeot has had a halo nameplate for some time - GTI - but is now looking to shake things up a bit with the introduction of its new Peugeot Sport Engineered (PSE) brand.
The first to be given the PSE treatment is the firm's stylish 508, but can this car bring excitement and, most importantly, act as a beacon for what modern sporty Peugeots are like? Let's find out.
---
There are a host of changes going on both outside and inside of the 508 PSE. It's available in both Fastback or SW (estate) layouts, while Peugeot Sport has made sure to make changes to the suspension, chassis and track to make it more involving to drive than the regular car.
The Peugeot 508 PSE also takes the title as Peugeot's most powerful road car to date, which shows that it really isn't messing about when it comes to performance.
---
Peugeot has adopted a hybrid setup for the 508 PSE. So you get a combination of a 1.6-litre turbocharged petrol engine with 200bhp and a pair of electric motors - one at the front and one at the rear. In total, you get 355bhp and 520Nm, equating to a 0-60mph time of five seconds and a top speed of 155mph.
But because of that 11.5kWh battery - which takes around an hour and three-quarters to fully charge via a 7kW home wallbox - you can get up to 26 miles of electric-only range. Plus Peugeot claims up to 138.9mpg combined and CO2 emissions of just 46g/km. So you're really getting the best of both worlds.
---
With four-wheel drive on its side, the 508 PSE definitely has all-weather capability within its list of abilities. This makes it a great fit for the UK's slippery roads which, more often than not, are wet and greasy with rain. When pushing on, there's a lot of traction while the steering - which has also been recalibrated - feels direct and well-weighted.
The seating position is also spot-on while the Alcantara-trimmed sports seats hold you firmly in place. Adaptive suspension also allows you to tailor the car's ride to the settings, so switching it into 'Comfort' quickly transforms that 508 PSE into a well-mannered cruiser.
---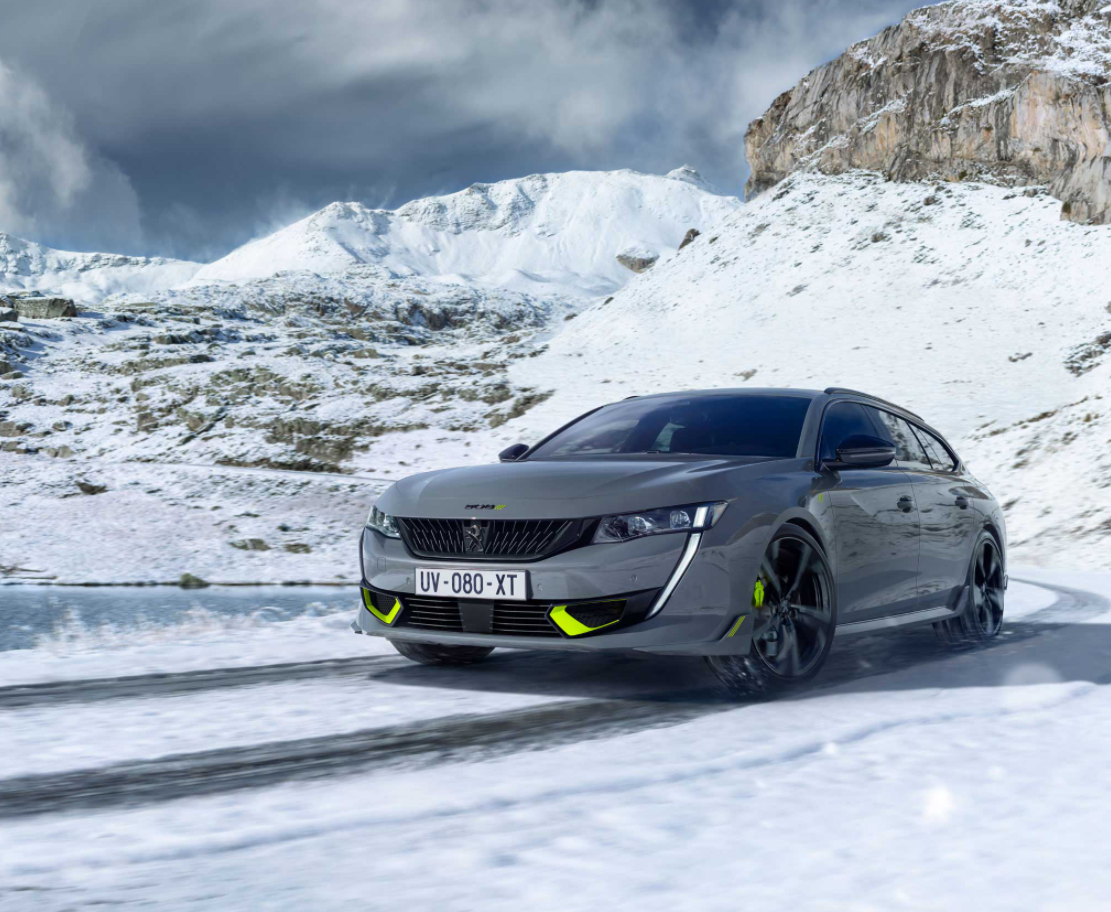 Even the regular 508 is a looker, so this transformation only adds to that well-judged design. In PSE guise the 508 is even more striking, with darkened chrome badges underplaying the kind of performance it offers. The PSE is separated from the rest of the range through its bold grille and enlarged air intakes, while plenty of Kyptonite (a green-yellow colour) coloured parts really stand out.
There are also some additional aero pieces on the front bumper while around the back there's a restyled and exaggerated rear diffuser.
---
There are plenty of styling touches in the 508 which separate it from the norm. There are the aircraft-style toggle switches and Peugeot's almost comically small steering wheel. You get a large digital instrument cluster ahead of that wheel, too, though it can sometimes be blocked if the wheel itself isn't in the right position.
In terms of boot space, the PSE offers the same 529-litre area that you get from the standard 508 SW, so it's got more than enough practicality on its side.
---
There is a drawback to the 508 PSE - its price. Starting from £55,795, this Peugeot is one expensive performance car, particularly in terms of the rest of the firm's range, and makes it more costly than rivals like Audi's S4 Avant. However, you do get plenty of standard equipment for the outlay, with highlights including 'Night Vision', which is able to pick out hazards in the road using an infrared camera to pick them out from the darkness.
In fact, the only option available is paint, with Nera Black, Pearl White and Selenium Grey all on offer.
---
There's no getting away from the fact that the 508 PSE is a pricey option within the market. However, its breadth of abilities - not to mention its great level of standard equipment - means that for many people it'll more than justify this price tag.
Add into this its practicality and sparkling dynamics and you have a car that will tempt many buyers away from more mainstream offerings.
Explore the Peugeot 508 SW PSE Browse used Peugeot stock
If you are Interested enquire here: