What is covered in this review:
---
The name 'Defender' needs little introduction. A motoring icon, it's a car which has proved itself time and time again with its ability to go anywhere and do anything. It's that reputation which has caused such an issue with creating a replacement; how do you replace a car which has practically woven itself into the history of all things four-wheeled?
It's a challenge that Land Rover has taken on, which is why we're now looking at a brand new Defender. Let's take a look at it in a little more depth.
---
Essentially everything. In fact, the new Defender is so far removed from the car it takes over from that it's barely worth comparing the two. It's underpinned by a platform which is '95 per cent new' compared with the rest of the Land Rover range and is created from lightweight aluminium which incorporates extra bracing to give the car even better stiffness over tough terrain. It also allows for independent suspension and caters for further electrified powertrains.
The Defender also benefits from the firm's latest Terrain Response system which gives even greater capability over difficult terrain.
---
A plug-in hybrid which has grabbed the headlines recently, but given that it's not available at launch we've been testing the D240 engine which is set to be the most popular.
It uses a twin-turbocharged 2.0-litre diesel from the latest Ingenium family of engines, and it produces 240bhp with 430Nm of torque. Land Rover states that it'll return up to 31.7mpg on the combined cycle and CO2 emissions of up to 253g/km.
The torque figure is the most important in a car like this as it's this pulling power which helps when pulling through boggy surfaces. However, out on the road, it's quiet and refined while providing more than enough punch for daily driving.
---
Much like the original Defender, the driving experience of the new car is divided into two distinct areas - on-road and off-road. And whereas the original's manners on the tarmac left quite a lot to be desired, the new car's characteristics in this area are far improved.
Our test car came fitted with tyres which blended both on road and off-road usability, which proved more than up to the job. On the difficult routes we travelled over in the Defender it never faltered, heaving itself up steep inclines without any hesitation or slip.
Then, when on out on the road proper, the Defender impresses with little wind or road noise and a ride quality which irons out the bumps in the road remarkably well. However, the soft ride does mean that there's quite a lot of lean, while the gearbox can be a little dim-witted at times and slow to respond to throttle inputs. Overall, it's far better on the road than any off-roader deserves to be.
---
Big, boxy and hard to miss, the new Defender represents an excellent interpretation of the design classic that was its predecessor. Chunky looks give some indication of its ability off-road, while the side-operating rear door gives it plenty of character while also allowing it to carry a full-size spare wheel.
Two body styles are available - three-door (90) and five-door (110) - with the latter commanding a slight premium. Though many will love the character that the smaller car brings, the practicality afforded by the larger model will likely be a benefit for families.
---
Though many die-hard Defender fans have voiced some negative opinions about the new car's cabin, for the vast majority of buyers it'll prove to be a pleasant and comfortable place to be. Land Rover has managed to blend luxurious and well-made touches with the robustness that people expect from a car like this.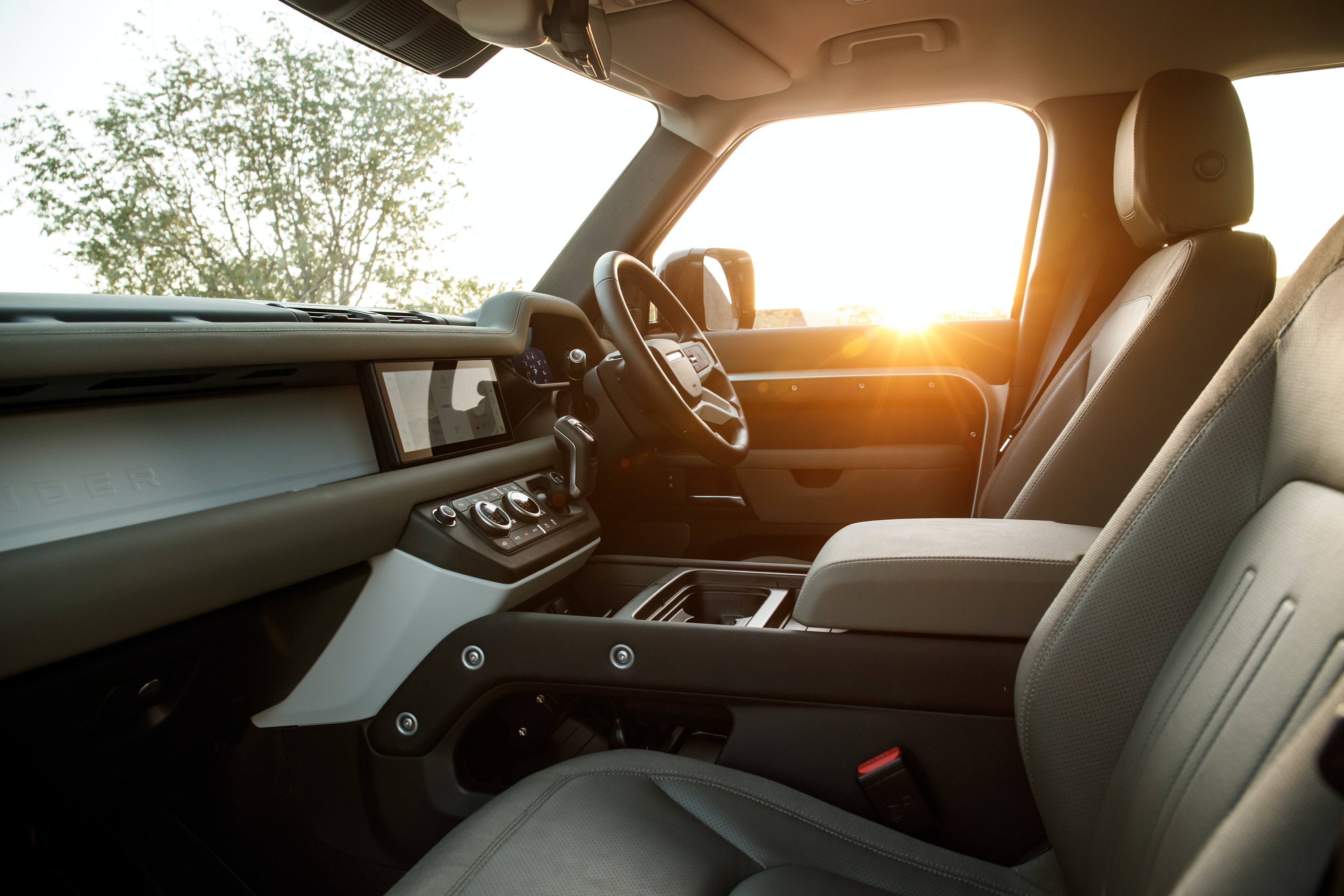 You get exposed bolts in the door cards, for example, and a metal structural element is visible in the dashboard too. It gives the car a rugged feeling without leaving it uncomfortable.
---
Four distinct trim levels will be available from launch: Defender, Defender S, Defender SE and Defender HSE. There are two separate models apart from these trim levels in the form of First Edition and Defender X.
rices for the 110 start from £43,385 and that gets you 18-inch steel wheels, LED headlights, fabric seats and satellite navigation. All of the previously mentioned off-road technology is included as standard too. Move up to 'S' grade and you'll get 19-inch alloy wheels and part-leather upholstery added among other features.
At the top end, First Edition models start from £55,220 and that adds air suspension, configurable terrain response, heated steering wheel and khaki leather upholstery. Finally, Defender X brings a sliding panoramic roof and two-tone leather upholstery - among other touches - for a starting price of £75,510.
---
It's fair to say that the new Land Rover Defender had an almost incredible weight of expectation on its shoulders when it was announced. Thankfully, it appears that it has overwhelmingly lived up to this, bringing impressive off-road ability with a new - and much appreciated - refinement on the road too.
Higher-spec versions are far too well-appointed to be considered 'workhorses', but those who are after more affordable, hard-wearing versions are well catered for too. In short, there's a Defender for everyone.