What is it?
You may remember that the old HR-V, in concept at least, followed the crossover recipe to the letter, but this new HR-V is something quite different and enters a booming sector. Honda says it combines coupé looks with MPV practicality and small car efficiency.
---
What's new?
It fits the brief of being compact by being based on the brand-new Jazz supermini platform but has the higher ride height and taller stance to give the more lofty driving position that buyers demand. It's also strictly two-wheel-drive only, reflecting that few will every attempt to take it off-road as well as helping to cut fuel consumption.
---
​What's under the bonnet?
There's one petrol and one diesel engine available, with the 1.5-litre petrol offering up a sprightly 128bhp. It's a smooth and sweet-spinning engine that in the Honda tradition is happy to rev, although it doesn't need to be thrashed to deliver brisk acceleration. It's also capable of impressive frugality, with a claimed 49.6mpg combined and 134g/km of CO2.
---
What's it like to drive?
Get settled behind the wheel of the HR-V and you're met with the clarity and simplicity of layout you expect from a Honda. There's logical controls laid out on the steering wheel, the 7-inch touchscreen sat at the top of the dash and the touch sensitive air con all within easy reach.
Elsewhere the HR-V demands very little from the driver with light, accurate steering and a snappy gearchange. The comfort-biased suspension also does a fine job of filtering out road imperfections, but should you feel the need to press on it is surprisingly able and happy with being thrown around a little.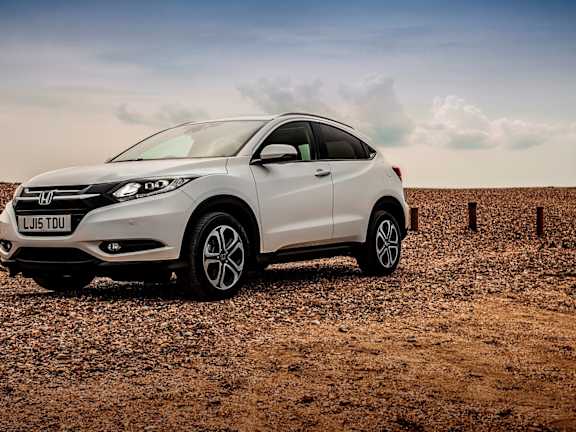 ---
​How does it look?
As the brief suggests, the HR-V is an interesting mix of visual cues. In terms of its dimensions it is surprisingly generous and the extra height gives it a little more presence than a similarly-sized hatch. It's also far from being a tall, dull box; there's creases and curves all over the body that give it more visual strength yet the heavily curved roof is more of a coupé twist. It might not be to all tastes but it's far from the love-or-hate approach adopted by the Nissan Juke and still has enough going on to catch the eye.
---
What's it like inside?
Even compact cars can't get away with being small on the inside but the HR-V is usefully space efficient. The seats are relatively high set to make the most of the tall body, with generous glazing and a low-set dashboard boosting the sense of space. It's a similar story in the rear where there's good space for the class, while the boot is generous and comes with the Magic Seat system to give you a completely flat floor if you drop the rear seats.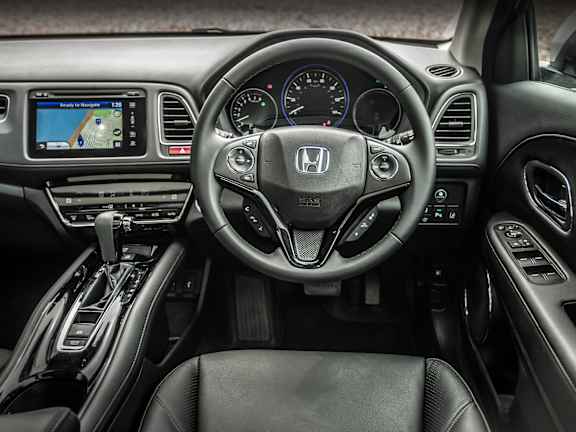 ---
What's the spec like?
The entry-level S model gets its fair share of kit with DAB radio, climate control, cruise control, electric heated mirrors, 16-inch alloy wheels, hill-start assist and an electronic parking brake to name a few, but moving up to SE Nav gives you the 7-inch touchscreen with navigation software included, bigger alloys, dual-zone climate, front and rear parking sensors and more importantly a large suite of safety systems including forward collision warning, traffic sign recognition and lane departure warning, making it a very well equipped machine for the money.
The HR-V is small enough not to be a handful but big enough to be practical, which means it will suit a broad spread of buyers. It's ideal for smaller families, has the versatility with its clever rear seats to suit annoying active types with their tons of kit but is also comfortable and sufficiently undemanding to serve older buyers well. Young singletons might prefer something more racy, but they'll soon want something better at carrying people and kit.
---
FACTS AT A GLANCE
Engine: 1.5-litre petrol unit producing 128bhp and 154Nm of torque
Transmission: Six-speed manual gearbox driving the front wheels
Performance: Top speed 119mph, 0-60mph in 10.2seconds
Economy: 49.6mpg combined
Emissions: 134g/km of CO2
---