If you're looking at electric cars the Honda e and the Volkswagen ID3 are both fantastic choices. But which comes out on top? This car comparison will reveal all the key points that you need to explore.
Let's dive in and get behind the wheels of these vehicles and take them for a spin.
---
Design
The designs of these two vehicles are quite different and that's to be expected. Honda and Volkswagen clearly have two different target markets in mind here. The Honda E has quite a boxy body and is certainly compact. This is Honda's first electric car to hit the market and it's clear that they're not viewing Tesla as a key rival. Instead, this seems to be a car that you could consider as opposed to a Fiat-500. Although it is a tad larger than this.
This is a car that has been designed for tight urban streets and the dimensions certainly reflect that goal. A stand out exterior design feature is the lack of any wing mirrors. We'll take a look at why this is a little further down but it will definitely guarantee this vehicle gets a few second glances on the road. Indeed, it's a beautiful body with a futuristic style that makes this car look like a vehicle of the future.
In contrast, Volkswagen has an elongated design which also ensures that it provides more space when you take a look inside. The design of this vehicle isn't quite as original as the Honda. Instead, it seems to have taken inspiration from the offerings of producers like Nissan and Mitsubishi. It does have some interesting curves and there are paintwork styles that will give the design an extra level of flair. There are some clever design features on display here that are innovative. For instance, there's a back cam that pops out from behind the Volkswagen badge when it is in use.
---
Engines
The Honda e provides an electric motor located at the rear of the vehicle. It provides two different outputs of either 100 or 113 kW. You also get a 35.5 kWh lithium-ion battery. According to Honda, this will provide a range of 137 miles. Remember, this is a car for the inner city, rather than weekend getaways. However, there is a CCS Combo 2 connection which should result in fast charging. The car should be at 80% in just thirty minutes. Using a 32-amp power supply, the car will be at full power in about four hours. This doesn't quite match the averages of other EVs on the market.
In the ID 3, you get a rear-mounted electric motor. The design is reminiscent of the original Beetle from the producer. Eventually, there will be options on the market for both an output of 201bhp and 148bhp. The early models that are releasing however provide 201bhp and 229lb. These are channelled through a fixed-ratio gearbox attached to the rear wheels. You can also have your pick of a variety of batteries including 48kWh up to 77kWh. The biggest battery available will provide you with a decent range of 342 miles. That does easily blow the Honda e out of the water, but again, these cars are definitely designed for two very different buyers. One of the areas where this car falls down is the charging time. With a regular plug, this car will take 39 hours and 30 minutes to charge. However, with a rapid 100kW charging unit, you can get to 80% in just 30 mins.
---
Interior
Take a peek inside the Honda and it becomes instantly clear why there are no wing mirrors but instead a total of six screens to grab your attention. Tech enthusiasts are sure to love the dash, even if the rest of the interior is fairly minimal. With the oak wood dash, there's a mixture of retro and contemporary ideas here that go together surprisingly well. The wheel has a retro design too and even the seats feel like they are from another age. All of these features make this feel like a classic that has been upgraded for the modern market.
There are interesting clashes of colour on display here too. For instance, the seatbelts have sleek lines and hazel stripes contrasting with dark brown stripes that match the dash beautifully. Buyers will also likely appreciate delicate features such as the material lining of the doors that do add texture to the design.
According to Honda, this is a lounge-style interior. You can understand the label too with the fabrics mixed with the multiple HD displays. The seats do provide a wonderful level of comfort and you almost sink into them as you slip inside this vehicle. It almost feels as though the inside of the car has been designed by an architect rather than a car design.
As for the screens, they are as impressive as you would imagine. There are two 12.3 inch screens in the centre which means that there's one for the driver as well as the main passenger. You can play around with the different apps at a quick click of the button. The tech is a little temperamental but it can be fun to play around with when you first get your hands on this vehicle.
Are you a gamer? There are 12V sockets as well as 230V ac power outlets which means that you can run a console through one of the screens. This is great if you're parked up somewhere.
In terms of space, there's not much to play around with but remember, this is a city car. So, if you are 6ft, you're not going to fit comfortably in the back but you should be fine in the front. There's a small 171-litre boot too or 861 if you push both the back seats down. As such, if you are often a solo driver, you could quite happily use this as a two-seater run around.
In direct contrast to the Honda, the Volkswagen is all modern all the time. Vibrant orange shades stand out against a black and grey overall design. There's a gorgeous, crisp white steering wheel and interface too which adds to the contemporary appeal. Most of what you need to control is completed through the touchscreen which is fantastic if you're looking for a car with a minimal design. However, it's not quite as appealing in terms of usability.
Inside, you'll have quite a wide view ahead of you which almost feels completely panoramic. Although, there is only a slim rear window which means that you'll get plenty of use out of that back camera we mentioned.
One of the stand out features of the ID3's interior is the 'ID' light. Although at first, this is undoubtedly going to feel like a gimmick, it becomes quite useful once you start fully feeling your way around this vehicle. For instance, it will light up red when you are getting too close to a car and new to break. It will also glow in the direction that you should be turning. It's similar in function to an Ambilight on a TV. While it's not essential, it does elevate the experience somewhat.
In the back, the seats are elevated, providing a cinematic sensation for your passengers. There's plenty of stowage options for those you're chauffeuring around too. Kids can take advantage of phone holders, mesh pockets and cup holders. The design doesn't have the 'wow' factor or the bold appeal of the Honda but it's pleasant. In terms of space, you get as much room in this vehicle as you go in the Golf however nowhere near the level of the Passat. In total, you get 385 litres so it beats the Honda by a mile.
---
The Drive
The drive you get with the Honda e is going to depend on your choice of motors. Both have the same range and equal levels of torque so you're not going to see that much of a difference in times of how long it takes you to go from 0-62. Unless your drag racing the difference between 9 seconds and 8.3 isn't going to hit you that hard. Furthermore, since you'll mainly stay in the city with this vehicle, you're probably not going to climb over 60 that much anyway. That said, it has quite rapid acceleration up to 30 which is fun if you are whizzing off on the school run or down to the office on Monday morning. You get a nice surge of throttle on tight corners while the 50:50 weight distribution feels absolutely fantastic.
Even if you are throwing this car around the bends, it still feels completely smooth although your driving experience is going to be determined by how much your foot favours the breaks. If you're a little braver, you can turn the traction control off and see what this car can really do.
Of course, the Honda e isn't made for racing. It's designed to keep you comfortable and stylish on city streets. It's here where the EV really begins to shine. The steering is light and there's only a slight amount of feedback to watch out for. It also has a tiny 8.6-metre turning circle so Honda has certainly thought long and hard about what their target buyers need here.
In terms of the experience, you'll get on a day to day schedule, it runs silently. Even at sixty, you won't hear the traffic whizzing past around you. The suspension is also designed to soften even the smallest of bumps and cracks in the road too. So, you don't have to worry about any nasty jolts. If you do want to take it for a proper drive out of the city, you're going to run down the majority of the battery in about an hour. But you can get the range up if you switch off the aircon. While there are two driving modes, there isn't that much difference between the two.
As for using the screens instead of the typical mirrors, mileage here is going to vary. Some drivers will find a noticeable flaw that the rear camera makes it look like every car behind you is ridiculously close to your bumper. The cameras that replace the wing mirrors have issues too and won't provide the clear view you would expect from the massive display screens.
Behind the wheel of the Volkswagen ID3, one of the first things you'll notice is that it feels like a rear-wheel drive vehicle. Take that as you will but it essentially provides a nice kick to propel you forward. You do feel the speed with this vehicle and it feels well balanced too. So you won't have to worry about any issues with the steering. While seeming quite large, the width of this car is also going to be a pleasant surprise on city streets. You'll be able to slip through narrow gaps without holding your breath.
It will hit 62mph in 7.3 seconds and the top speed for the vehicle is 99mph. So, this isn't the car for thrillseekers but it still provides quite a nippy drive that most owners are going to appreciate. Don't forget, this car is ultimately a family hatch. It's not designed to impress your friends with a fantastic acceleration but it does offer a comfortable drive and you can still have some fun in the bends.
There are a few different driving modes to choose from on this one too. You can switch between Eco, Comfort and Sport. All of these are relatively similar and Comfort is probably the best of the bunch. It's nothing like switching from Comfort to Dynamic in an Audi A5.
Comfort is an apt name for the drive too as it is a pleasure to be behind the wheel of this vehicle. As with the Honda e, you won't feel many of the bumps in the road. That's despite the fact that this car is quite heavy and with some more innovative design options it could have been a little lighter.
One of the issues to be aware of is that driving this car will take a little getting used to. There's a learning curve here. Unless you've had the pleasure of taking a BMW i3 for a spin, you'll be unfamiliar with the drive selector that is connected to the steering column. You need to twist it to get to different modes including reverse and brake. It is a little complicated and this vehicle doesn't feel like a one pedal EV. The pedal also provides a virtual response which will also take a little getting used to.
When you first start driving the car, it won't feel as though you're braking hard enough, even as the car comes neatly to a stop. It's an efficiency design choice and it works well once you get through the unnerving sensation that the brakes are too light. There are no regen modes here either or extra paddle shifters. These are all choices to make the car feel less complex for drivers. But you still might want to take out the manual before you are completely comfortable with this one on the road.
---
The Cost
If you are interested in purchasing the Honda e, you should expect to pay £26,160 after you take advantage of the government grant attached to the vehicle. Alternatively, you can pay £229 per month with a depository of £6000. That price matches what we've mentioned through this comparison. The Honda e is one of the city EV cars you can consider.
On the other hand, the cost of a Volkswagen ID.3 lines up quite nicely with the high-spec versions of the VW Golf. You can expect to pay a starting price of £38,190. If you want all the bells and whistles, expect to add up to another £10K onto that cost. There is a configurator when you purchase this vehicle straight from VW so you can choose and select which features you want. While this is considerably more expensive than the Honda, it gives you more room and a better range. Even if there isn't quite as much tech to play with.
Of course, if we're comparing cost we also need to consider the amount that you'll pay to charge these vehicles. At home with a typical plug, you can expect the ID.3 to cost roughly £9.90 per charge, or 4.2p per mile. At a public charging point, the cost is roughly £14.90 for an 80% charge or 6.3p per mile.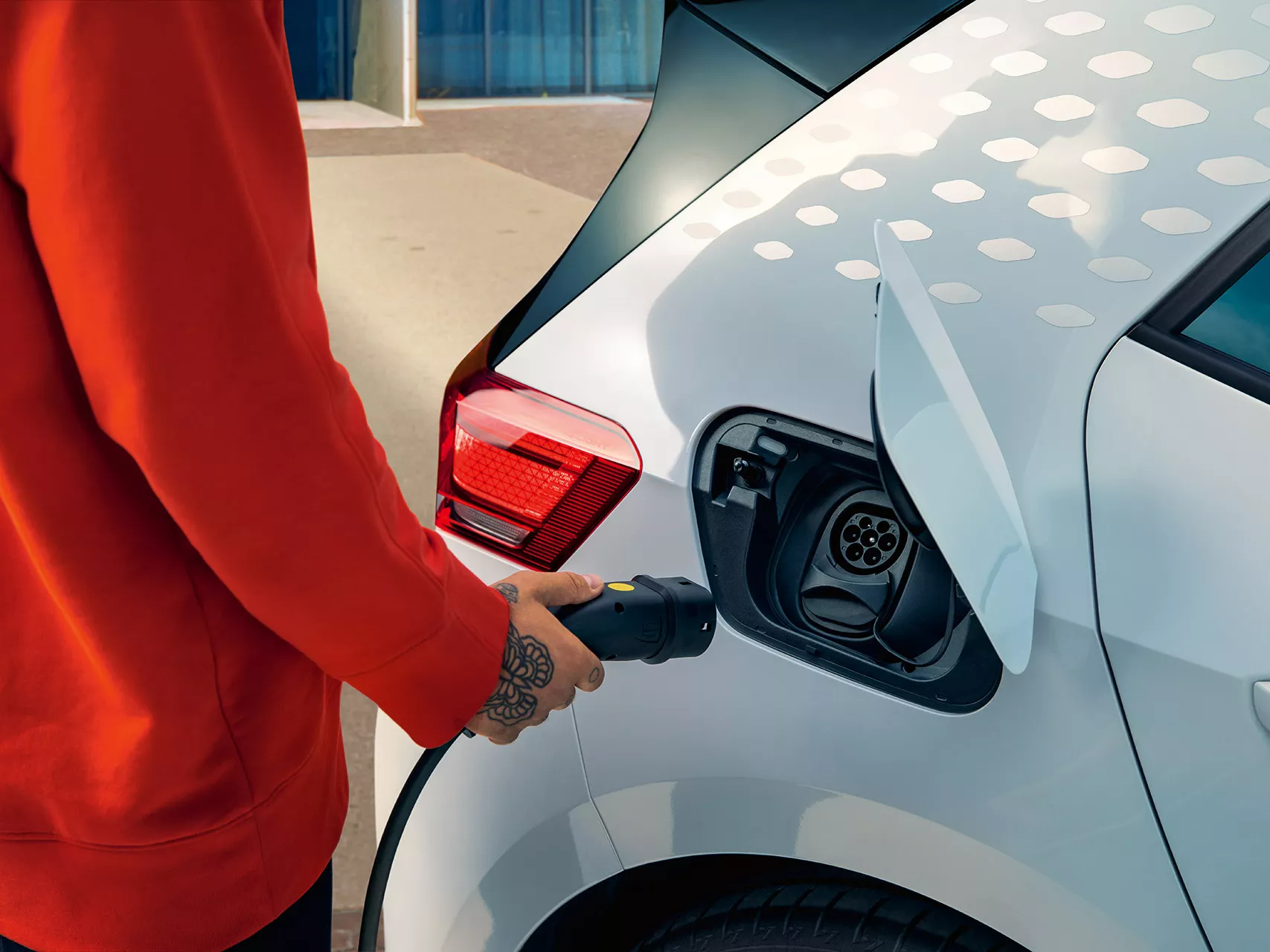 The Honda e can be charged a little cheaper at £5.70 or 4.6p/mile at home or £8.50 or 6.9p in public. So, while on first glass you are paying less for charges on the Honda e, you'll need to charge it more frequently due to the lower range.