What is it?
Whichever Fiat board member suggested expanding the 500 range beyond the cute city car is a genius. Though the iconic 500s two larger siblings – the 500L and 500X – aren't best-sellers in the UK, they lead their respective segments on the continent and make the Italian brand a tidy packet.
But the 500X has always been slightly old-fashioned, trading on its retro appeal rather than its modernity, so Fiat has seen fit to give it a substantial mid-life facelift.
---
What's new?
On the outside, the fundamentals are virtually identical, but reprofiled bumpers front and rear give a neater aesthetic. Of more appeal are the new lights – standard LED daytime running lights and taillights, with optional full LED headlights. They bring the car well up to date, and look rather slick – especially the 500-aping ring-shaped taillights.
Of the three engines on offer, two are all new – a 1.0-litre three-cylinder and a 1.3-litre four-cylinder. They join a new suite of safety tech as well as an interior that's been updated with smartphone connectivity and a new, more legible instrument panel.
---
​What's under the bonnet?
We tried both of the new petrol engines, of which the 1.0-litre will likely be the biggest seller. We're glad to report that it's an excellent unit. It's very refined for a three-cylinder engine, refusing to sound strained even at higher rpms. It's also decently powerful, with 118bhp on tap and a 10.7-second 0-60mph sprint. It means there's plenty of punch for town driving.
The 1.3-litre doesn't feel quite so pleasant, despite being fundamentally the same as the 1.0-litre but with an extra cylinder. Its metallic rasp sounds harsh and is rather obtrusive when revved, and it doesn't mate too happily with the six-speed automatic gearbox, making for jerky changes and some hesitation when pulling away.
With 148bhp, the 1.3-litre is ostensibly a rival for the likes of the VW T-Roc's 1.5-litre TSI EVO engine – but the lack of refinement means we'd struggle to recommend it.
There's also a 1.6-litre naturally aspirated petrol carried over from the previous model, which will be at its happiest in city driving conditions.
---
What's it like to drive?
Key to the 500X's appeal will be how it handles rutted surfaces and tight city streets. It dealt with the tight confines of Turin with aplomb, thanks to quick steering, good visibility and an easy manual gearshift.
However, we would have appreciated a little more cushioning in the ride – the 500X thuds over bumps that a Citroen C4 Cactus would have ironed out.
That firm ride does pay dividends on faster roads where the 500X corners very tidily, though mid-corner bumps can unsettle it. There's plenty of grip, but the light power steering doesn't really give much indication of what the front wheels are doing – and it's a little twitchy on the motorway.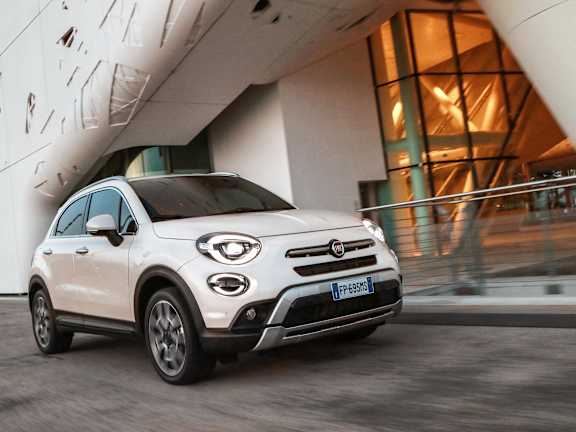 ---
​How does it look?
The retro-pastiche looks of the standard 500 translate far better onto the 500X than they do on the 500L mini-MPV. This is a really appealing small crossover, with two distinct 'flavours'.
Urban models feature body-coloured bumpers and fewer trim additions, while City Cross and Cross Plus trims get beefy faux skidplates, black cladding around the wheelarches and an altogether more rugged aesthetic.
There's no doubt a Volkswagen T-Roc or Renault Captur feature a more premium look both inside and out, but the 500X takes a different route and profits from it. It certainly seems to work – Fiat claim that 64 per cent of the 500X's buyers are attracted from other brands, and haven't owned a Fiat before.
---
What's it like inside?
A wide swathe of body-coloured material across the dashboard brightens up this interior, which can feel a little dark and dingy in other places. It's showing its age, too – most of the new switchgear is clustered on the steering wheel, making it feel rather crowded.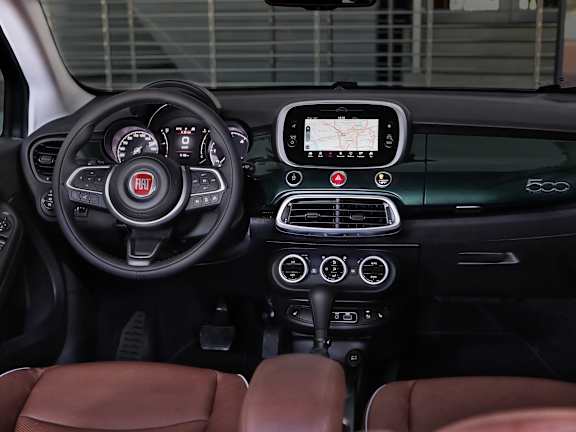 Material quality is good though, as is space – four six-foot adults can travel in reasonable comfort. At 350 litres, boot space is less than you'd get on a family hatchback such as a Volkswagen Golf, but it's reasonable.
The driving position isn't the most comfortable, as the pedals feel as if they're set rather far forward, but visibility is good and the new instrument panel is clear and easy to read. There's also an updated Uconnect touchscreen, set high on the dash for ease of sight – though it's rather far away and you'll need to lean forward to operate it.
---
What's the spec like?
Those new LED daytime running lights and taillights are standard across the range, though full LED headlights are only standard on top-spec Cross Plus models. Mercifully standard are alloy wheels and Android Auto and Apple Carplay connectivity, accessed through a 7-inch Uconnect touchscreen.
You'll need to step up to City Cross trim to access the two new engines, which also brings a colour screen in the instrument panel, dual-zone climate control, cruise control and 17-inch alloy wheels. Cross Plus brings heated front seats, the aforementioned LED lights, lane assist, a rear parking camera and 18-inch wheels.
If style matters and you've outgrown a regular 500, the 500X is a great choice thanks to its retro charm – but the welcome tech boost and excellent new 1.0-litre engine ensure there's some substance to the style. It's decent to drive, spacious enough for a young family, and well-priced. Those after a more modern aesthetic may also be served by the latest Jeep Renegade, which offers the same engines wrapped in a beefier bodyshell.
Facts at a glance
Model as tested: Fiat 500X City Cross 1.0 Turbo
Engine: 1.0-litre three-cylinder petrol
Power: 118bhp
Torque: 190Nm
Max speed: 117mph
0-60mph (secs): 10.7
Fuel economy (combined): 48.7mpg
Emissions: 133g/km