What is it?
We've already driven the Jaguar E-Pace in low-powered diesel mode, but the baby SUV in the range is also offered with a higher-output turbocharged petrol engine – and that's exactly what we have here. It's the most powerful unit currently available with the E-Pace, so caters for those who want a little more punch from their compact SUV.
It's fitted here alongside the R-Dynamic S pack – arguably the sportiest specification accompanying the E-Pace. It adds a more dynamic exterior look to the car, as well as larger 20-inch alloy wheels – with both giving the E-Pace a lot more impact on the road.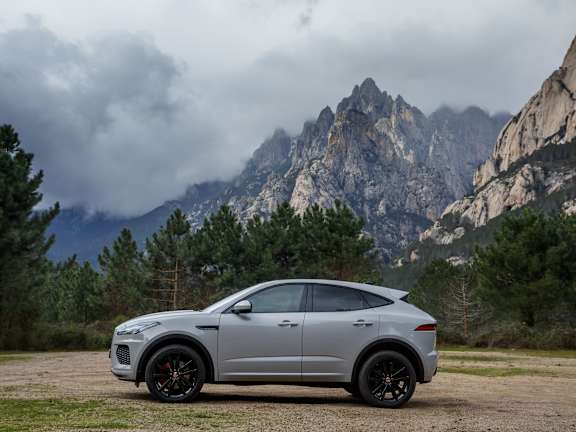 ---
What's new?
As mentioned earlier, the biggest addition here is that engine. Though 2.0 litres in capacity, it still manages to return impressive performance figures, alongside decent economy results. The E-Pace also benefits from all-wheel-drive in this layout, giving better all-round capability as well as improved traction in poor conditions.
Our E-Pace benefits from a variety of extras which, though optional, showcase an increase in the amount of technology being applied to compact SUVs – the 'Activity Key', for instance, allows you to unlock and lock the car via a wrist-worn strap – ideal for those who don't want to keep a key in their pocket.
---
​What's under the bonnet?
Our E-Pace was driven by the most powerful engine available in the range, a turbocharged 2.0-litre 'Ingenium' petrol. It sends 295bhp to all four wheels via a nine-speed automatic gearbox. Thanks to 400Nm of torque, the E-Pace can hit 60mph in just 5.9 seconds, before topping out at 151mph.
Despite the increased performance, economy figures aren't all that bad. Jaguar says that the E-Pace will return 35.3mpg on the combined cycle, while emissions stand at 181g/km CO2. That said, the most powerful diesel in the range should return 45.6mpg and emit just 162g/km CO2.
---
What's it like to drive?
As you'd expect with any Jaguar, the E-Pace has been designed to retain some level of sporty handling characteristics, despite its size. The ride and handling are much as you'd expect: the steering has a good amount of weight to it, and you can accurately place the car where you'd like it. The engine has a plenty of punch, though the turbo's response can be sluggish at times. Likewise the gearbox's shifts are crisp enough in full automatic mode, but tend to slush through the cogs when in manual.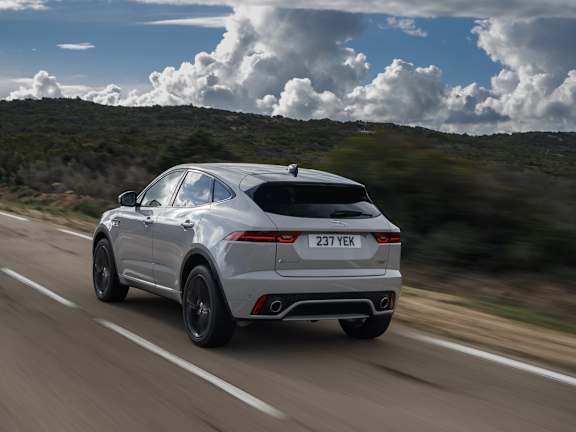 One aspect of the car we take a dim view of was the poor low-speed ride. Potholes and other road surface imperfections were transferred straight through to the cabin – though at higher speeds these were barely noticeable. This could be down to the E-Pace's large 20-inch alloy wheels which, though good-looking, possibly likely contribute to the choppy ride
---
​How does it look?
The E-Pace, in our eyes at least, is a good-looking car and distinctively enough styled to separate it from the larger F-Pace – though the similarities are still quite noticeable, particularly towards the rear of the cars. It's a well-judged and classily executed exterior, and one that looks impressive whether static or in motion.
The E-Pace is, as we mentioned, accompanied by large alloy wheels which do improve the appearance of the car – though we'd happily trade a little bit of visual impact for better ride quality. The interior is also instantly recognisable as a Jaguar and, though well built, lacks some of the fun that you'll find in competitors' cabins – and may be missing the flair that some customers want inside of their compact SUV.
---
What's it like inside?
The cabin of the E-Pace feels similar to that found in the larger F-Pace and also in the XE saloon car. It's nicely driver-focused, with plenty of adjustment to be found with the steering wheel, allowing you to get comfortable easily. The seats also go reasonably low, and this helps to give the car a dynamic, sporty feel.
The overall impression is good; materials throughout the cabin are, for the most part, of a high quality – with only a few harsher plastics lower down bringing the overall effect down. Fit and finish are also excellent, with all trim pieces and main controls feeling as though they have been built to last. Even rear seat legroom is decent enough, which is likely to find favour with young families – Jaguar's target market for the E-Pace.
---
What's the spec like?
The E-Pace benefits from a good level of standard equipment, with features such as a 10-inch infotainment screen, Bluetooth connectivity and two-zone climate control helping out in the value-for-money stakes. R-Design cars, such as our test vehicle, benefit from a full sports bodykit and sports seats, as well as a black gloss grille.
It's worth noting that the base price for our test car is £41,510 – though add-ons such as 18-way electric heated and cooled front memory seats – an incredible £1,125 option – quickly ramp up the price. That said, all but two specifications benefit from Jaguar's satellite navigation system – though you'd expect this given the car's price. That said, a failure to include carpets as standard – a £105 option on all trim levels – seems a little mean.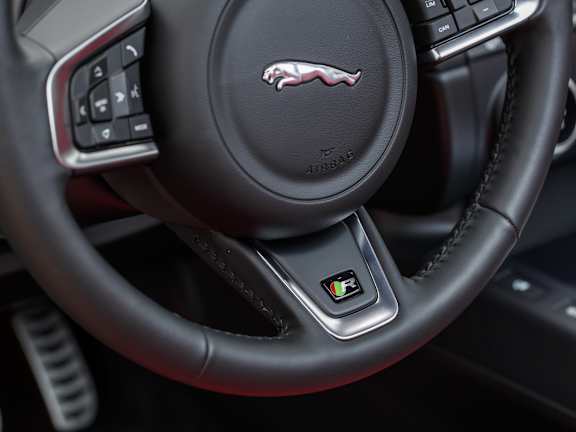 The E-Pace is somewhat of a mixed bag. It drives keenly enough, and certainly stands out against other boxier competitors. However, it's expensive – and once you've applied a smattering of optional extras it quickly commands quite a hefty price. The poor low-speed ride isn't ideal either, particularly when you consider that the car's target market – young families looking for their first large car – are likely to be taking it around towns and cities on the school run.
Overall, you'll be just as happy in a base-spec E-Pace as you would be in this high-end version, which is why this more powerful – and more expensive – car is a less convincing package.
---
FACTS AT A GLANCE
Model: Jaguar E-Pace P300 R-Dynamic S
Engine: 2.0-litre turbocharged petrol
Power (bhp): 295
Torque (Nm): 400
Max speed (mph): 151
0-60mph: 5.9 seconds
MPG (combined): 35.3
Emissions (g/km): 181