When you want to treat yourself, sometimes the only the car that will fit the bill is a cabriolet; the freedom, the wind in your hair and sheer feeling of class that comes with getting behind the wheel of an Audi A5 Cabriolet is hard to resist!
And there's good news, this sexy soft-top has been adorning our roads since 2009, which means you'll be able to find an example that fits your budget. If you have any worries about what your friends and family have said, then check out our cabriolet myth busters and you'll be good to go.
Check Out Used Audi A5 Cabriolet
What you can expect from a used Audi A5 Cabriolet:
Excellent build quality
A real feeling of luxury in the interior
Classy looking from the exterior
---
Fun factor
The A5 Cabriolet has been available with many different engines over the years it's been in production, giving you a very wide choice, making it easy to find a model which suits your needs.
And the Audi is a lovely car to drive, of course, it has the appeal of any convertible because there really is no nicer way to travel on our roads than with the roof down on a sunny day. The good news is with so many engine and trim variations over the years, whether you're just looking for the soft-top experience or need to be driving a sports car, or if you're looking for economical motoring there's an A5 Cabriolet to suit your head, heart and pocket.
Choose a model from 2017 onwards and you'll find two trim levels, Sport and S line both come with xenon headlights, DAB radio, a 7.0in colour infotainment screen, sat-nav along with lots more goodies.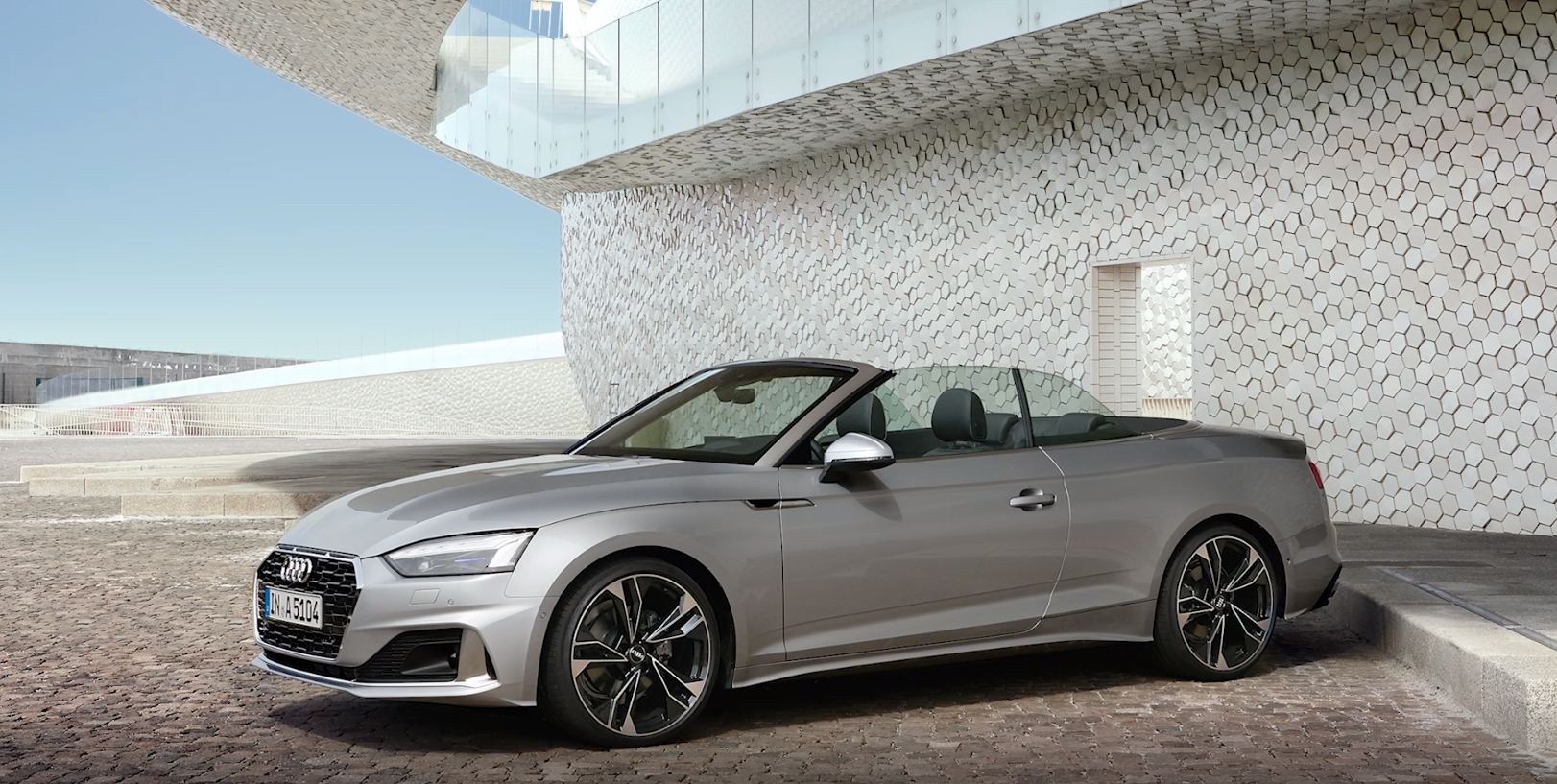 ---
Luxury factor
Audi know a thing or two about creating luxurious driver-friendly interiors and the A5 Cabriolet doesn't disappoint inside, with a cabin that oozes quality there's no doubt it leads its class with upmarket and soft touch materials everywhere you look.
Audi's MMI infotainment system comes as standard and features a clear 7.0in display controlled with the usual rotary dial between the front seats. Choose an example from 2017 onwards and the brilliant Audi Virtual Cockpit was an option with its exceptionally clear digital graphics and instruments. A warning though, use it once and you'll be hooked!
---
What to look out for
Appearances can be deceptive and in the case of the A5 Cabriolet its dimensions are larger than you may think. It is in fact quite a long car, which makes it ripe for knocks, bumps and scrapes in car parks, so take a look around the front and the rear and check the alloy wheels. Check the roof works too, a cabriolet without a working roof is not a cabriolet!
---
How safe is a used A5 Cabriolet?
If you're worrying that a cabriolet may be less safe than its metal roofed siblings then Audi should put your mind at rest with their electronic stability control system designed to stop the car turning over in a particularly violent crash.
And whilst the independent crash safety experts at Euro NCAP will probably never go that far, you can rest assured that since the A5 Cabriolet shares much of its structure with the Audi A4 saloon, which is Euro NCAP five-star-rated.
---
Will a used Audi A5 Cabriolet be reliable?
The A5 Cabriolet is built on the tried and tested platform of the Audi A4, ensuring that beneath its sexy exterior is a solidly reliable car. So, a fun cabriolet is no less reliable than its saloon siblings; who says you can't have a car that's great to drive and reliable!
Check Out Used Audi A5 Cabriolet Explore New Audi A5 Cabriolet
---
If you are interested enquire here: