With SUVs and crossovers being very much in demand right now, there are plenty of manufacturers building them, one of which being Audi.
Its range of 'Q' cars spans five models, each differing in size, price and other parameters.
However, with the segment filled with many different options, it's easy to get confused by even one manufacturer's line-up.
That being said, by reading on, Audi's SUV range will hopefully become that bit simpler to understand…
Audi Q2
The Q2 is the smallest and most affordable car in the Q line-up. Priced from £22,720, it competes with crossovers such as the BMW X2 and Mercedes-Benz GLA. The model offers SUV style within a familiar, hatchback-sized package.
It's also more premium than other similarly-sized crossovers such as the Nissan Juke and Renault Captur.
Audi Q3
For those wanting a bit more space than the Q2, there's the Q3. While still fairly compact (for an SUV), this is where the range steps into proper SUV territory.
This model also gets a Sportback version featuring a sloping rear end for that extra bit of style, sportiness and desirability. It's priced from £31,290.
It's worth noting that the sporty, 392bhp five-cylinder-engined RS Q3 is also available from £52,450.
Audi Q5
The Q5 is the next step up. Being a mid-sized SUV, it rivals the likes of the BMW X3 and Mercedes GLC and is available from £41,420.
Pay a bit more, however – £49,735 to be exact – and buyers can get themselves a fuel-sipping plug-in hybrid version called the TFSI e, which only adds to the model's appeal and breadth of ability.
Audi Q7
The Q7 is the most practical car in the Q range. So practical in fact, that it's offered with seven seats. It has tons of cabin space and a large boot.
Starting from £56,310, it does command a higher price than the previous cars on this list. But in saying that, buyers do get quite a lot for their money and not just in terms of space – there's a lot of great tech on offer too, such as matrix LED headlights and MMI Navigation Plus.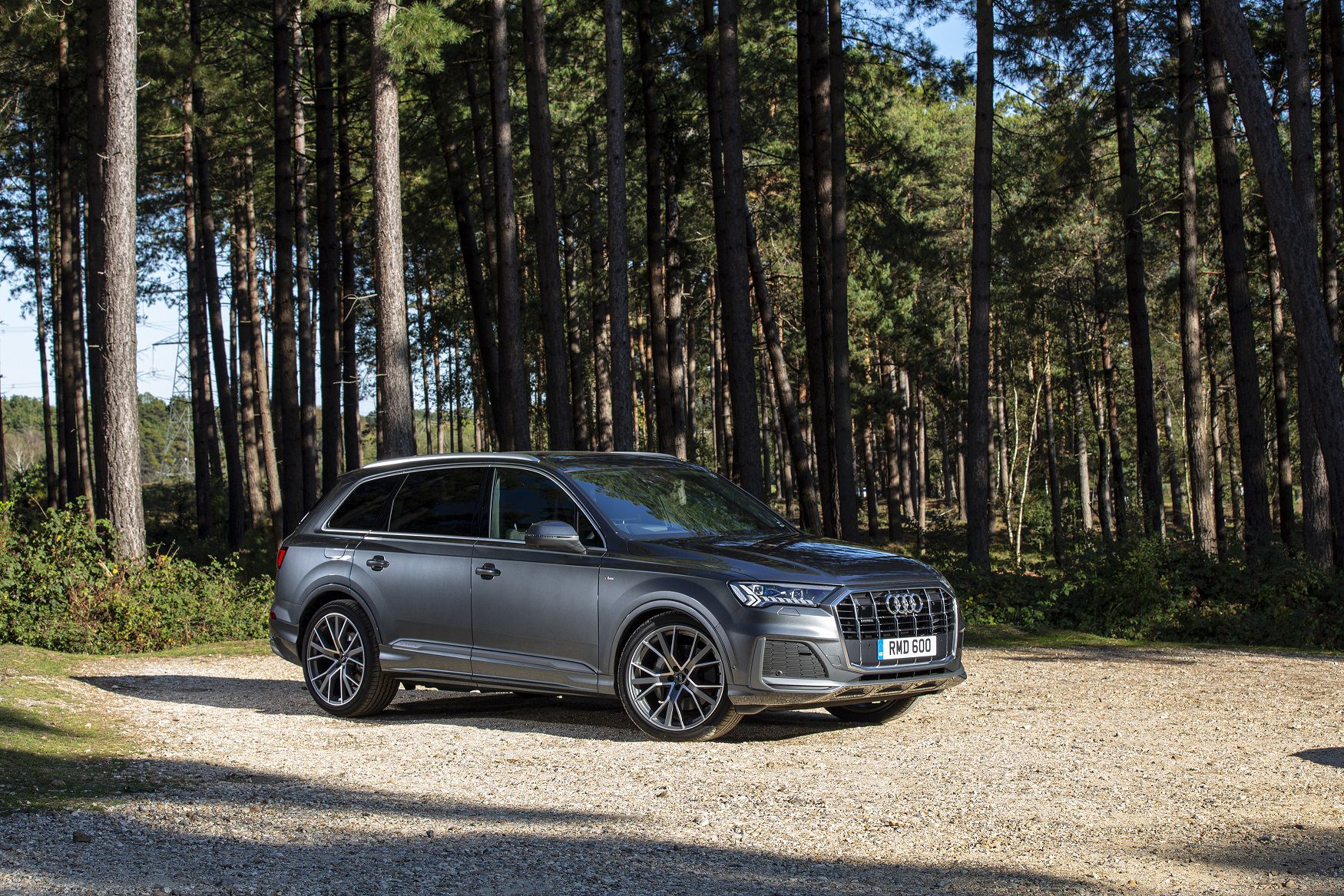 Audi Q8
Topping Audi's range of SUVs, however, is this – the Q8. While it can't quite match the practicality of the Q7, this one's more about style and sportiness – that can be seen in the aggressive design and sloping rear end.
This is all reflected in the price – £66,710. And if that still isn't enough, there's the £100,900 RS Q8, which features a 592bhp 4.0-litre twin-turbo V8 engine.
Find out more about the Audi SUV range.