Buying a VW California: Ocean vs. Coast
There are plenty of reasons to buy a campervan; value for money, family holidays, retirement adventures, spontaneous weekends away, but is a VW California a good investment and should you consider buying one? Choose a VW Cali and you'll find:
Sensible size – goes everywhere a car can go, but with the kitchen sink on board.
State of the art technology – lots of driver assistance tech to keep you and your passengers safe on your adventures.
Exceptional residual values – you'll already know this if you've looked at buying a used Cali; they hold their value extremely well, good news for you if you're thinking of buying a new one.
Factory built, NOT a conversion – German build quality throughout and comes with…
Factory warranty – up to 5 years worry-free adventuring and the Cali is VW from rubber to roof.
---
What's the Difference between the Volkswagen California Ocean and Coast?
So, you've decided to join the campervan crew, now you need to decide, which is the right Cali for you, the top of the range Ocean or the new Coast model.
One of our VW California Specialists, Guy Vincent, at the Volkswagen Van Centre in Preston has shared his thoughts;
I think the choice between the Coast and Ocean is one for each individual, their needs and of course, their budget.

With such good residual values, you can't really go wrong, so, my advice is to think about how you're going to be using your Cali; will it be a car during the week and a campervan at weekends and holidays, or is it a second vehicles just to be used as a campervan.

Make a list of what you need and stick to it.
The VW California is based on the VW Transporter and with the new 6.1 model comes a new Cali trim level, the Coast. In the past the choice was between the top of the line Ocean or the Beach, which had no kitchen facilities on board; so, you really can't make a bad choice!
---
What IS the difference between the VW California Ocean and Coast models?
Firstly, it's universally acknowledged that the Cali is a fantastic piece of kit; its' robust build quality, great design and car-like qualities make this is a campervan for every eventuality.
We're saying farewell to the Cali Beach, which was more of an MPV type camper, but if you prefer outdoor cooking then fear not, these models will still be available as Approved Used models.
---
The VW California 6.1 Ocean
Always the top of the range model, the Ocean now comes with more engine choices, you can opt for a higher-powered 196bhp motor, as well as optional 4MOTION all-wheel drive; there's added technology too, larger alloy wheels, along with the pop-up roof which glides up hydraulically at the touch of a button.
The Ocean now boasts an abundance of driver assistance features, rear-view camera system, alongside a state-of-the-art digital cockpit which you can customise to suit you perfectly. For practicality there's plenty of storage with new catches to keep everything safe and secure when you're on the move.
The double bed has had a makeover too, with pocketed sprung mattress bringing home comforts to the road! No more roll together, just a great night's sleep and the canvas has been changed to keep out the light, allowing you to have a good long, comfy night's sleep.
And as for the aforementioned driver assistance features, well there are too many to list them all, but for starters there's emergency brake assist, park assist, active lane assist, adaptive cruise control, crosswind assist, trailer assist…phew you get the gist! There's many more all designed to help you adventure safely.
There's further home comforts with a hob, sink and fridge, and on the outside the Ocean looks swish too with 17" alloy wheels, LED headlights and even double glazing in the rear cabin; there's also climatronic three-zone automatic climate control and an auxiliary air heater.
When a campervan just isn't enough then choose the Ocean, truly now a glampervan!
---
The VW California Coast
Where the beach was less campervan, more MPV, the Coast is a full camper with the hob, sink and 42 litre cool box included.
It boasts the new pocket spring double bed for super-comfy sleeping, but without the power roof (it's manually elevating!); there's also adaptive cruise control and emergency city braking. There's great connectivity and super-sharp touchscreen. The Coast comes with the 148bhp 2.0-litre TDI engine and unlike the Ocean there's no option to upgrade.
You may be limited to one engine, but rest assured, you won't get chilly in the Coast, it has an auxiliary heater, making it a totally different camper to the Beach, fully-equipped, and offering everything you could need for adventuring near and far.
In essence, the Coast is a less 'full-fat' version of the VW California Ocean, but with its well-equipped kitchen, heater and driver assist aids, many may find it a less expensive way to join the campervan fraternity.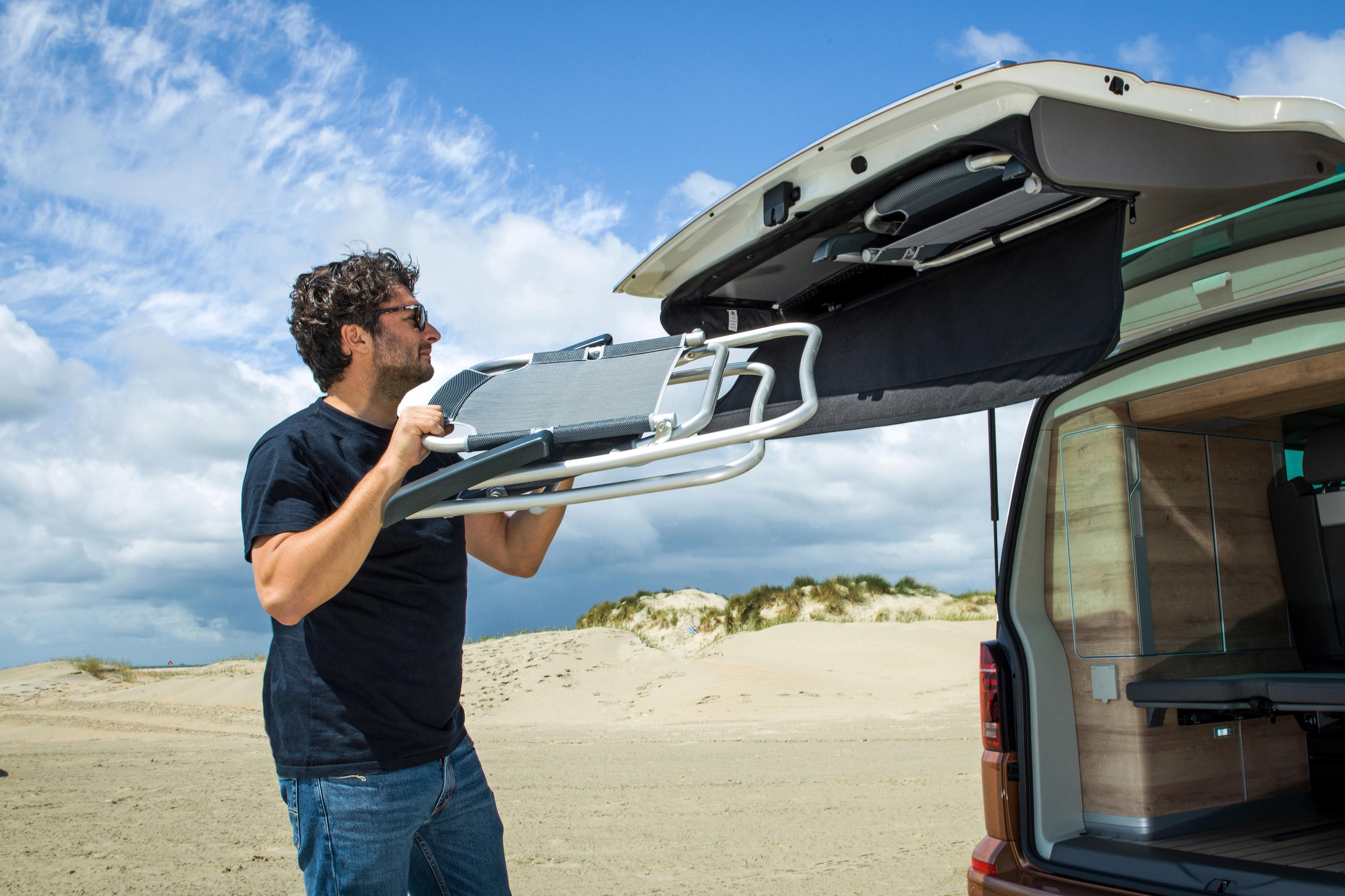 ---
California 6.1 Coast Highlights
• Camper control unit with touch-screen
• Fully sprung loft bed (1,200mm x 2,000mm)
• Camping chairs and camping table (can be stowed away)
• Fully functional kitchen with gas stove, sink and 42 litre compressor cool box
• Manual elevating roof with two side windows
• Kitchenette in Bright Oak wood-effect
• Two additional leisure batteries (150 Ah)
• Two-seater bench with lounge function (1,140mm x 1,950mm)
California 6.1 Ocean Highlights
• Ambient interior lighting, featuring dimmable LED cupboard lights
• Climatronic air conditioning system and auxiliary air parking heater
• Digital Cockpit
• Discover Media DAB+ navigation including 'Streaming & Internet' 1
• Electro-hydraulic elevating roof with panorama front opening
• Fully functional kitchen with gas stove, sink and 42 litre compressor cool box
• Fog lights including cornering function
• Front and rear parking sensors including Park Assist
• LED headlights with separate LED daytime running lights
• Kitchenette in Graphite Grey slate-effect
---
Ocean v Coast - Which is better?
The answer is; it depends what you're looking for…if you want top of the range in every area and are happy to allocate a commensurate budget, then there's no doubt the Ocean is for you. Exceptionally well spec'd with many things included that you've probably never even thought of. If you want top spec this is for you.
If value for money and conserving your budget is uppermost then the Coast offers an exceptional level of spec for a lesser budget and will get you adventuring on a budget.
There's no doubt that whichever model you choose, you'll be investing in an exceptional piece of kit which will hold its value and give you years of memories and fun.
---