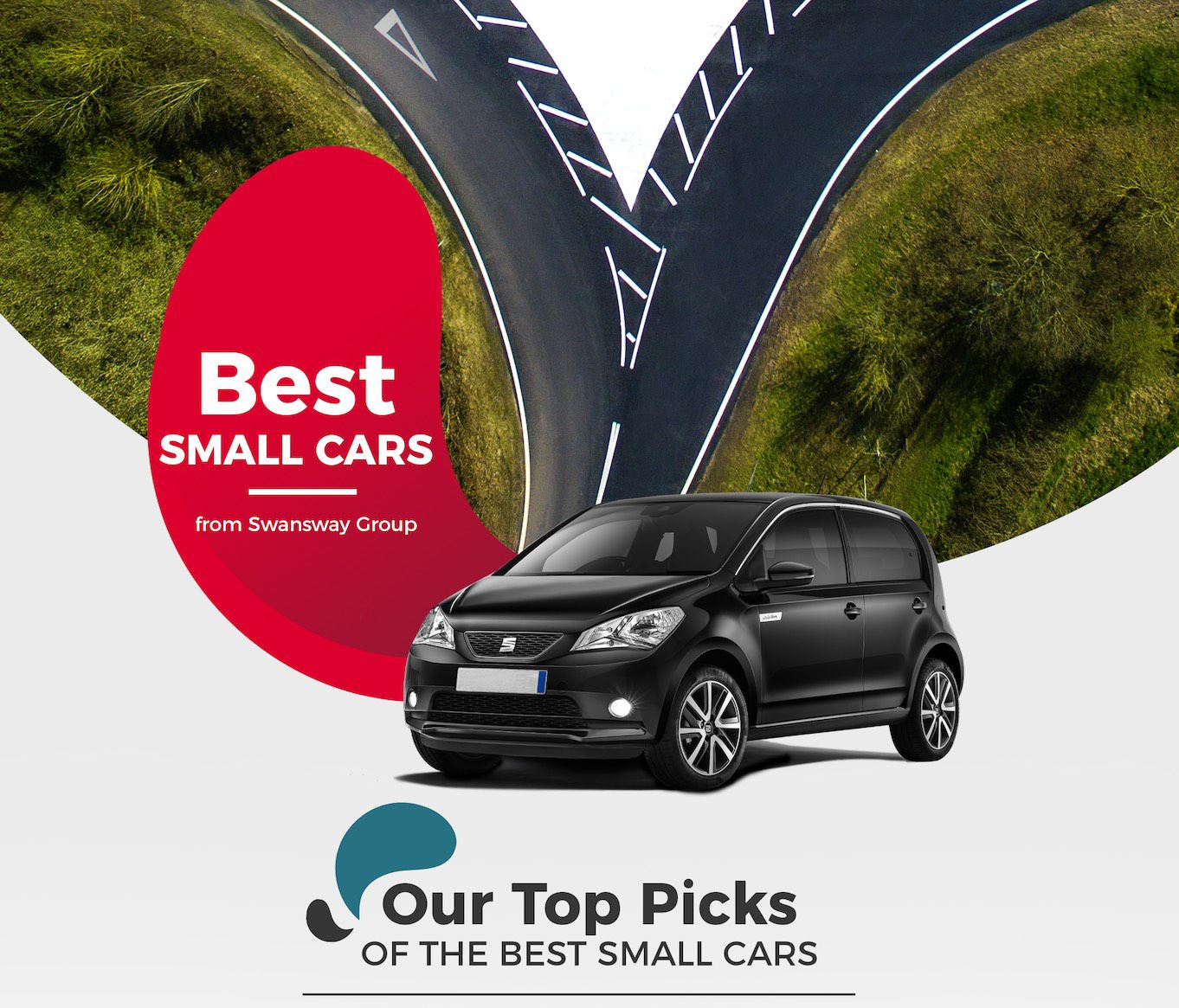 The best small cars combine easy handling, style and deceptive space. Find the best small cars for economy, reliability and boot space at Swansway Group.
Built for City Driving and Easy Handling - The Best Small Cars
The best small cars aren't as impractical as they might sound! Perfect for navigating through narrow city roads and squeezing into tiny parking spaces, car manufacturers continue to improve the quality and practicality of small cars to give buyers the best of both worlds. Some of the best small cars now offer plenty of boot space as well.
So, if you're looking for a compact car that'll still fit the kids comfortably in the back and hold up against motorway driving, there's plenty to choose from: small cars with big boots; cheap small cars; the most reliable small cars and of course the most economical small cars. Even the small 4x4 car has taken its hold on the market.
With compact cars making up the majority of new car sales in the UK, they're proving to be a very popular option with drivers at all stages of life, which means that there's plenty of choice out there - great for all of our customers! Here's our list of some of the best small cars from across the Swansway Group.
The most compact Citroën on the market is the Citroën C1. This hatchback is available as a five-door model if accessibility and practicality are your main priorities, or you can go for the three-door alternative for a sleeker look and slightly lower price tag. As with all of the best small cars, the Citroën C1 is economical to run, with fuel consumption of around 68.9 MPG.
Automatic transmission options also make the Citroën C1 a great candidate for the best small automatic car. You can go for other extras to give your C1 some added flair, such as the Airscape model that comes with a folding fabric canopy roof. Then there's the Flair specification that adds a 7-inch touchscreen to the dash and a reversing camera to really help you fit into those small city spaces. Voted one of the most reliable small cars by Carbuyer, you'll be onto a winner with this one.
The C1's size makes it fun to drive through narrow roads, but still robust enough to handle longer drives. It's efficient at handling corners and also comes with hill hold control to assist you with steep starts. Despite its compact nature, there's still plenty of space for the kids in the rear of the car, although taller adults might find it a tight squeeze. Citroën has increased the boot space since the older models of the C1, and the back seats also fold down if you need some extra storage space - who said compact cars aren't practical?
Another of Citroën's contenders for the best small cars is the C-Zero. That's 'Zero' as in zero emissions, because this sleek city car is Citroën's only fully electric model, making it a contender for the most economical small car on this list. It comes at a higher price than the C1, but its low running costs easily make up for this.
The car's sleek, aerodynamic design gives it a cool, futuristic look and puts the driver in a great position for a complete view of the road with its almost vertical front. The C-Zero has a spacious interior for a city car, with a high roof allowing plenty of room for two passengers in the back of the car and ample boot space for shopping bags or luggage.
Buying this electric car doesn't mean compromising on the essential functions. Electric power steering, automatic headlights, and air conditioning are all on offer. But, bear in mind that using these features will cause the battery to drain at a quicker rate, so you should factor this into your journey times and itineraries. Make sure you know where you can access charging points on longer journeys and you'll soon be whizzing around, fuel-free!
If you'd prefer an SUV but dread the thought of manoeuvring it around narrow streets and finding a sizable parking space, then the Audi A1 Citycarver could be the car for you. Buckets of style, tonnes of attitude and the solid build you'd expect from Audi are all wrapped up in this pumped up version of the already popular compact Audi A1.
5cm taller than the A1, the Citycarver offers more road presence, increased interior space and a better view of the road ahead. This small car is perfect for city driving, and even features a 'city' button which improves driving conditions in a busy setting. Air conditioning will keep you cool, no matter the state of the roads while lane departure warning, pedestrian and cyclist recognition and hill-hold assist keep you, your passengers and other road users safe.
A choice of two petrol engines – a 1.0-litre with 115PS or a more powerful 1.5-litre with 150PS - allows you to tailor your drive to your own preferences. Whichever engine you choose, you'll be sure of a smooth drive that catches everyone's eye.
Another contender for most economical small car is the fully electric Peugeot e-208. Don't be misled by its sporty and colourful good looks - the e-208 is a compact five-door car that can provide comfortable accessibility for up to five passengers and a driving experience that is every bit as engaging as the petrol version with 3 driving modes - Sport, Normal and Eco.
The height-adjustable driver's seat, makes it even easier to see out of the expansive front windscreen. For an added touch of comfort, the front seats also come with a heated option. Looking beyond comfort, the Peugeot e-208 is one of the best small cars for convenient features, such as a 7-inch touchscreen to keep you connected to your phone and wireless changing in all but the most basic model. The easy-read dashboard increases your driving confidence, as should the Lane Positioning Assist, Active blind Spot Monitoring.
In the rear, you'll find 2 isofix anchor points to easily equip car seats for a quick escape on family trips, to get full advantage of the 199-mile range, made even more enjoyable when you discover the free 6-month charging subscription that comes with every new e-208!
Another of the entry level small cars out there that really stands up to the test is the SEAT Mii Electric. This is one of the best small cars with a big boot, boasting a spacious 251 litres. Space inside the cabin is impressive too, with plenty of head and legroom for adults in the front. Legroom might be tight in the back for tall adults, but there's definitely plenty of space for small kids to travel comfortably, making this a good choice for the best small family car, too. Opt for the five-door version to improve accessibility for passengers in the back.
The SEAT Mii Electric's 160-mile range is more than enough for the daily commute, school run or a recreational drive at the weekend. It's also one of the most reliable small cars with hill-hold assist to help you set off safely on steep hills without rolling backwards, while Electronic Stability Control can reduce the risk of skidding, keeping you in control at all times.
Its compact and agile frame makes the SEAT Mii Electric a good small car for zipping in and out of city streets, and it's a fun and comfortable drive with great control over speed bumps or potholes. Still, the SEAT Mii also holds up to scrutiny when driving on larger and faster roads, with a max speed of 81 mph, planting the SEAT Mii Electric firmly on the list of best small cars on the market this year.
Our final contender is one of the best small cars around right now, voted Best City Car by Auto Express. The Volkswagen up! has one of the most spacious interiors of similar small cars, with room enough for four adults. It's available with either three or five doors, covering all angles from sleek to practical, depending on your needs and preferences.
The VW up! is stable and easy to control over uneven surfaces, impressively so for a small car. It's a delight to drive and remains smooth at higher speeds, while also being easy to handle at low speeds and around tight bends. The recent addition of an all-electric version, the Volkswagen e-up! adds even more driving options to this popular compact car. Visibility is also good, with narrow pillars to the sides of the windscreen not obstructing too much of your view.
The Volkswagen up! also offers you a touch of class and luxury at an incredibly reasonable price. The up! has a deep boot that provides a good amount of space for bags, with flat folding rear seats as standard to provide extra room. Higher end trims offer 60/40 split-folding seats for greater flexibility. Great inside and out, what's not to like about the VW up!?
We've covered six of the best small cars on the market at the moment, offering affordability, practicality, reliability, style, and the odd touch of luxury. Still undecided? Here's a reminder of some of their top features:
Of course, at Swansway Group, we're always on hand to offer honest and impartial advice about all of our cars. If you're looking for a stylish compact car to cruise around in, get in touch with Swansway Group for expert guidance when buying your new car.