What is it?
If you want to go very fast in a big, high-riding SUV, then there aren't all that many options available. You could go down the Porsche Cayenne Turbo route, or even that of the Range Rover Sport SVR. However, if you want a performance diesel-powered off-roader, then there's really only this – the Audi SQ7. It may be an oil burner, but it's still capable of hitting 60mph in under five seconds – all while seating up to seven people in the utmost comfort. Here, we check out how it copes on UK roads.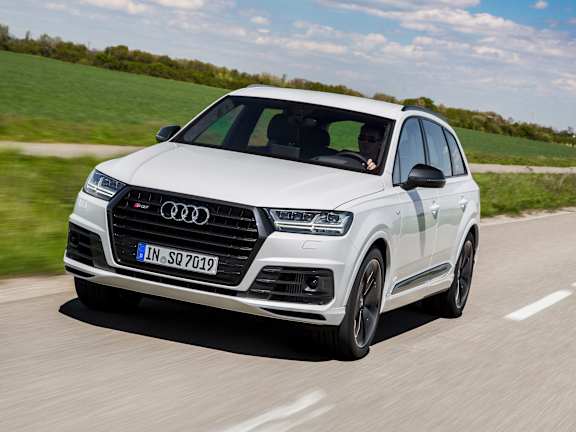 What's new?
The fundamentals of this latest-generation SQ7 remain the same. It's still one of the largest cars available to buy today (only just topped by the Mercedes GLS and Tesla Model X), offers room for seven people and has a decent boot.
This car, however, trumps 'regular' four-wheel-drives by offering frankly astounding performance that would put many hot hatches to shame. It does this by employing some clever tech alongside sheer brute force – though we'll look at what gets this car going in a little more depth shortly.
​What's under the bonnet?
The SQ7 has a leviathan of a diesel engine. It's a 4.0-litre diesel V8, but rather than just conventional turbochargers (of which there are two), it also features an "electrically powered compressor", which, as the name suggests, is a compressor powered by an electric current rather than exhaust gases. Whereas conventional turbochargers rely on those gases to come through, an electrical one can be started in the blink of an eye – meaning far less lag when pressing the throttle pedal.
All this results in the SQ7's exceptionally fast 0-60 mph time, as well as its 155 mph top speed. However, it'll still return a claimed 37.2mpg combined, while emitting a respectable 199g/km of CO2 when fitted with the larger 21-inch wheel.
What's it like to drive?
At regular speeds, the SQ7 feels like any other Q7. It's large, which makes it rather cumbersome around town, but the visibility is good and the steering is light enough to make positioning it – despite the car's huge size – not too much of a hassle. Then you head out on the open road, and boy does it make its difference to the regular Q7 known.
Give the SQ7 full throttle and the whole car surges forward with almost impossible ferocity. It's accompanied – in Dynamic mode – by a loud, bellowing racket, which is tremendously impressive. And then, when you start driving with your sensible cap on once more, it's refined, comfortable and quiet – ideal for long motorway journeys or cross-country jaunts.
How does it look?
Our test car came in all-out Vorsprung Edition specification, which gives it some key visual additions over the regular SQ7. Chief among these are large 22-inch Audi Sport alloy wheels, which add to the car's already massive amount of presence. The contrast black grille sits formidably at the front of the car, and is complemented by a variety of other gloss-black touches such as the wing mirrors and roof rails.
It's not a delicate design, that's for sure. But it's an imposing look for those who really do like grabbing the attention of anyone nearby.
What's it like inside?
The interior of the SQ7 ticks all the major Audi boxes: it's brilliantly solid, made with high-quality materials and is easy to navigate. The key controls are all within easy reach of the driver, while the seats (heated sports version in this Vorsprung Edition car) are supportive without being overly firm or uncomfortable. There's a good amount of space for passengers in the middle row too, while adults will be fine in the rearmost seats for shorter journeys as well.
There's just an ingrained sense of solidity to the SQ7's interior, and during our time with the car this was confirmed by a complete lack of squeaks or rattles from anywhere at all. There's plenty of storage too, with well-sized cupholders and plenty of cubbies – the door pockets are large enough to take a two-litre bottle of water as well.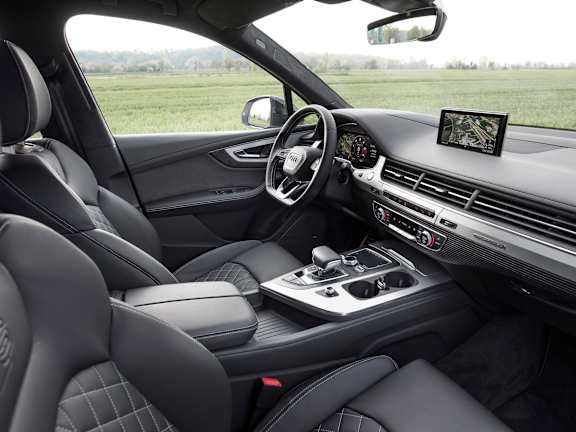 What's the spec like?
Given that the SQ7 starts at a considerable £74,385, it would be fair to say that you'd be expecting plenty in the way of standard equipment and, thankfully, we can confirm that this is the case. Its position at the top of the Q7 range means that all manner of bells and whistles have been thrown its way, with features such as Audi's Virtual Cockpit and full navigation system fitted as part of the car's base price. You also get parking sensors at both the front and back of the car, as well as an incredibly useful rear-view camera – a practical must-have for a car of this size.
The Vorsprung Edition adds Valcona leather upholstery too, as well as a head-up display and wireless phone charging, but then it bumps up the car's price considerably as well – our test car came in at a hefty £90,580.
The Audi SQ7 really does manage to be all things to all people. It's fast – almost absurdly so – but it's also comfortable, refined and actually rather economical for a car in this segment. During our time with the car, we regularly saw 35mpg, hitting 36.5mpg on a long motorway run. It is expensive, but if you're looking for a car that can outpace most hot hatches while also providing enough room for seven people, then it's easily one of the best choices around.
Facts at a glance
Model as tested: Audi SQ7 Vorsprung Edition
Price (as tested): £90,580 (€123,150)
Engine: 4.0-litre turbocharged diesel V8
Power: 429 bhp
Torque: 900 Nm
Max speed: 155 mph
0-6mph (secs): 4.7
Fuel economy (combined): 37.2mpg
Emissions: 19g/km