In this Audi S3 review we cover:
---
This is the new Audi S3. It's the latest version of one of the firm's most popular performance models, slotting in between the SQ2 crossover and larger S4 saloon and estate. There's a saloon version available too - something carried over from the previous generation S3. Let's take a look at what this latest model has to offer.
---
The new S3 is based on the regular A3 and, as a result, uses the very latest platform underpinning Audi's popular hatch. It also boasts an updated engine and a brand-new interior, ensuring that this is far from some subtle redesign but a comprehensive overhaul of what the S3 is and what it offers.
---
The S3 makes use of a turbocharged 2.0-litre petrol engine sending power to all four wheels via a seven-speed automatic gearbox. In total, it produces 306bhp and 400Nm of torque, resulting in a 0-60mph time of 4.6 seconds and a top speed of 155mph.
The body has also been lowered by 15mm as standard, though optional S sport suspension can be fitted as an upgrade in order to give more control over the damper settings.
---
The S3 delivers its performance in a perfectly unflustered fashion. There are excellent levels of grip to be found, with Audi's quattro all-wheel-drive system ensuring that you stay on the straight and narrow no matter the conditions.
The steering is nicely weighted too, while the brakes are brilliantly effective at pulling the S3 to a progressive stop. The ride is on the firm side for UK roads, but it's what you'd expect from a car leaning on the sportier side of things.
---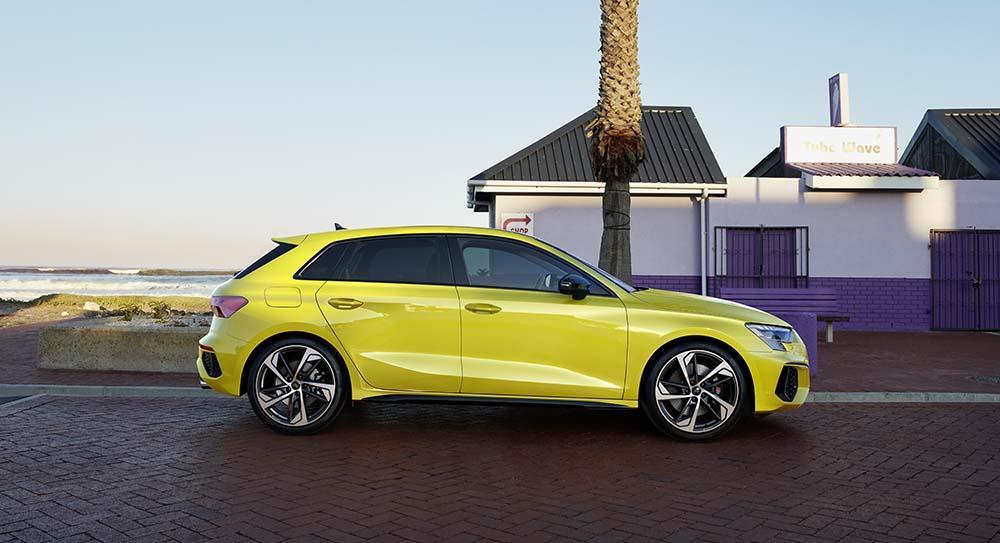 It's hard to mistake the S3 as anything but an Audi, with its huge front grille and large badges ensuring everyone knows what make of car it is. But elsewhere the design is restrained and well-judged, thanks to heavily bolstered arches which give the whole car a more aggressive appearance. At the back, the quad exhaust pipes give a real indication about the performance the S3 can offer, too.
---
The cabin of the S3 has been well-finished, while plenty of high-end materials ensure that the interior of the car feels up to mustard compared with the rest of the Audi range. It's largely dominated by a wide touchscreen system, though Audi's excellent virtual cockpit system remains in the area ahead of the driver, where it relays key information as well as mapping readouts.
---
As you'd expect from a performance Audi model, the S3 is fitted with an impressive amount of standard equipment. There's a large central infotainment screen and it's here where you'll access media and satellite navigation functions.
You also get Audi's excellent 'Virtual Cockpit' setup in place of the conventional dials. These can be configured to showcase a variety of different readouts, including an ultra-wide navigation display.
---
The Audi S3 is an accomplished and well-rounded compact sports car, bringing the security of all-wheel-drive with the punch and performance of a surprisingly smooth petrol engine.
It's also practical enough to deal with family duties and subtle enough to not shout about its own performance - not too much, that is.
Search Used S3 models Learn more about New Audi S3 Contact your local Audi Dealer
Tell me more about the Audi S3!