Should I buy an Audi Q8?
The latest addition to the Audi range is the Q8; but is it a car you should be adding to your consideration list?
A fusion of large SUV and coupe styling, with lots of luxury
Great looking and makes a real statement
More fuel efficient than you'd imagine
Brilliant technology which is intuitive and actually useful
Set be a leader in this niche market
https://www.youtube.com/watch?v=njQfZ9DTjBc
---
What is the Audi Q8?
Just when you thought Audi couldn't stretch its Q range any further, along comes the Q8; but, is it an answer to a question that no one really was asking?
Audi says the Q8 is designed for car buyers who want the elegance of a luxury coupe and the convenience of a large SUV and judging by the popularity of the luxurious Range Rover brand, there's a market out there for just such a beast.
Based on the range-topping Audi Q7 SUV, the Q8 is shorter both in height and length, but wider, and debuts the new 'face of the Q family' with a bold and imposing grille.
---
What's does the Audi Q8 look like?
With the BMW X6 and Mercedes Benz GLE already in this sector the Q8 needs to stand out from the crowd, and it does that with its design dominated by that new nose and swooping body lines, it cuts a fine figure in the tough SUV-coupe class.
If you're in the market for a large coupe SUV, then the Audi Q8 will definitely appeal. Audi has done a great job of making a sloping roofed off-roader look handsome; in my opinion it's far more attractive than the awkward BMW X6 and that's a real plus point.
---
What's under the bonnet of the Audi Q8?
Audi have used their technological tricks to great advantage under the bonnet in a concerted effort to increase efficiency. A mild hybrid system (MHEV) uses a large battery to increase the amount of time the engine can use its start-stop system and even allows it to completely shut down and coast at speeds between 34mph and 99mph.
At launch, just one engine will be available, a 3.0-litre diesel badged 50 TDI. This offers 286bhp and 600Nm of torque and is able to shift the Q8 from 0 to 60mph in a very creditable 6.3 seconds and on to a top speed of 144mph. Fuel economy and emissions have yet to be revealed. A less powerful 3.0-litre diesel and a 3.0-litre petrol will join the range later in the year.
---
What's it like to drive the Audi Q8?
Our test route was thousands of metres above sea level in the Atacama mountains of Chile, where, to be fair we struggled to breathe, and so too, to some degree, did the Audi engines. That said, the high-powered 3.0-litre diesel model we tested performed well.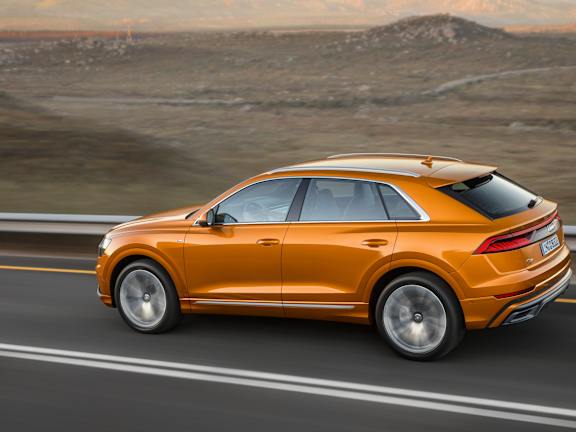 The steering felt a little weightier than you'd expect in an Audi SUV. On the smaller wheeled option with air-suspension cranked up to comfort, it coped well with the rutted roads that crossed the South American deserts. In all honesty its dynamic ability was rather hard to rate on these arrow straight highways, but on the few bends we did tackle there was little body roll.
---
What's it like inside the Audi Q8?
Inside, the smart twin-screen set-up, first seen on the Audi A8 has been implemented. I'm a big fan of this configuration which splits heating and car controls to the lower display and entertainment to the top. It's minutely adjustable and really is a joy to use. Haptic feedback, which makes it feel like you're pressing an actual physical button, rather than a touchscreen, makes it easy to work with on the move, and the controls are intuitive.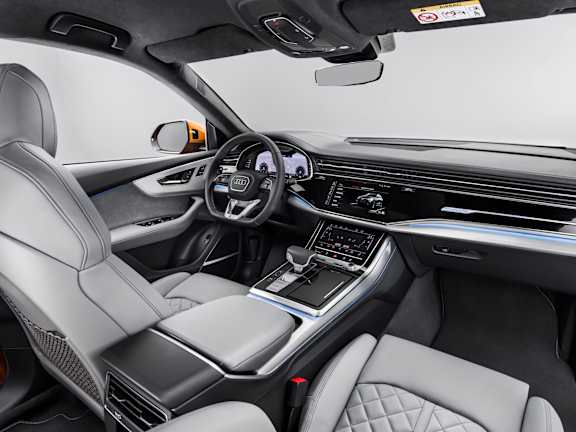 The latest technology is put to good use, you'll never go without your favourite snack again, the latest natural language voice control lets you simply say 'I'm hungry' or 'I need fuel' and the system pulls up nearby restaurants or petrol stations. The Sat Nav can learn your regular routes too – even if you haven't added them to the system – and will warn you of unusual traffic issues on your commute.
The dash swoops around the driver and passenger in coupe-car style and the multi-adjustable seats are very comfy. The interior materials look and feel luxurious too, though our test car's centre console did have an irritating little squeak.
---
What's the Audi Q8 spec like?
The S line specification includes LED headlights, 21-inch alloy wheels and adaptive sport air suspension as standard. A reversing camera, phone charging box, ambient lighting, powered tailgate and keyless go are some of the other highlights which do go on and on.
A high-end Vorsprung specification will be made available shortly after launch which adds huge 22-inch alloys, sportier (and heated) seats, a head-up display, more leather, panoramic glass sunroof, and power door closure, among many other niceties.
---
Verdict on the Audi Q8
In a market of quite frankly, in my opinion at least, rather ugly large SUV coupes, the Audi Q8 stands out as a bit of a looker.
The whopping new grille may be a little 'marmite', but it helps the Q8 it cut a rather dramatic and dashing figure on the road. It's designed to appeal to a niche market of and for that market it definitely delivers; the Q8 is a compelling package that's enjoyable to drive, comfortable and packed with usable and useful technology.
For Audi this could well be another niche rather successfully filled.