The Audi e-tron is undoubtedly one of this German manufacturer's most important cars in years.
As well as being its first all-electric model, the e-tron kickstarts a new electric sub-brand that will be expanded significantly over the coming years.
But currently if you want an Audi and you want it to be electric, the e-tron is your only option to buy right now. Here's what you need to know about.
---
Powertrain explained
For the time being the Audi e-tron is only available in one powertrain, which is known as the 'e-tron 55 quattro'. It features a 95kWh battery offering a claimed 237 miles of electric range, while a powerful electric motor produces a maximum of 402bhp and 561Nm of torque. This equates to a 0-60mph time of 5.7 seconds and a claimed top speed of 124mph.
As for charging times, the e-tron's battery can be charged to 80 per cent in 30 minutes, and 100 per cent in around 50 minutes using the most powerful 150kW rapid chargers.
---
Trim levels
The e-tron is available in two grades – the regular version and the e-tron Launch Edition. Here are the highlights of each.
---
e-tron
Unsurprisingly for a more expensive model, standard kit is very generous. Just a few highlights include LED headlights, 20-inch alloy wheels, full leather upholstery and a twin touchscreen setup. It also features a panoramic camera, as well as front and rear parking sensors, to name but a few features.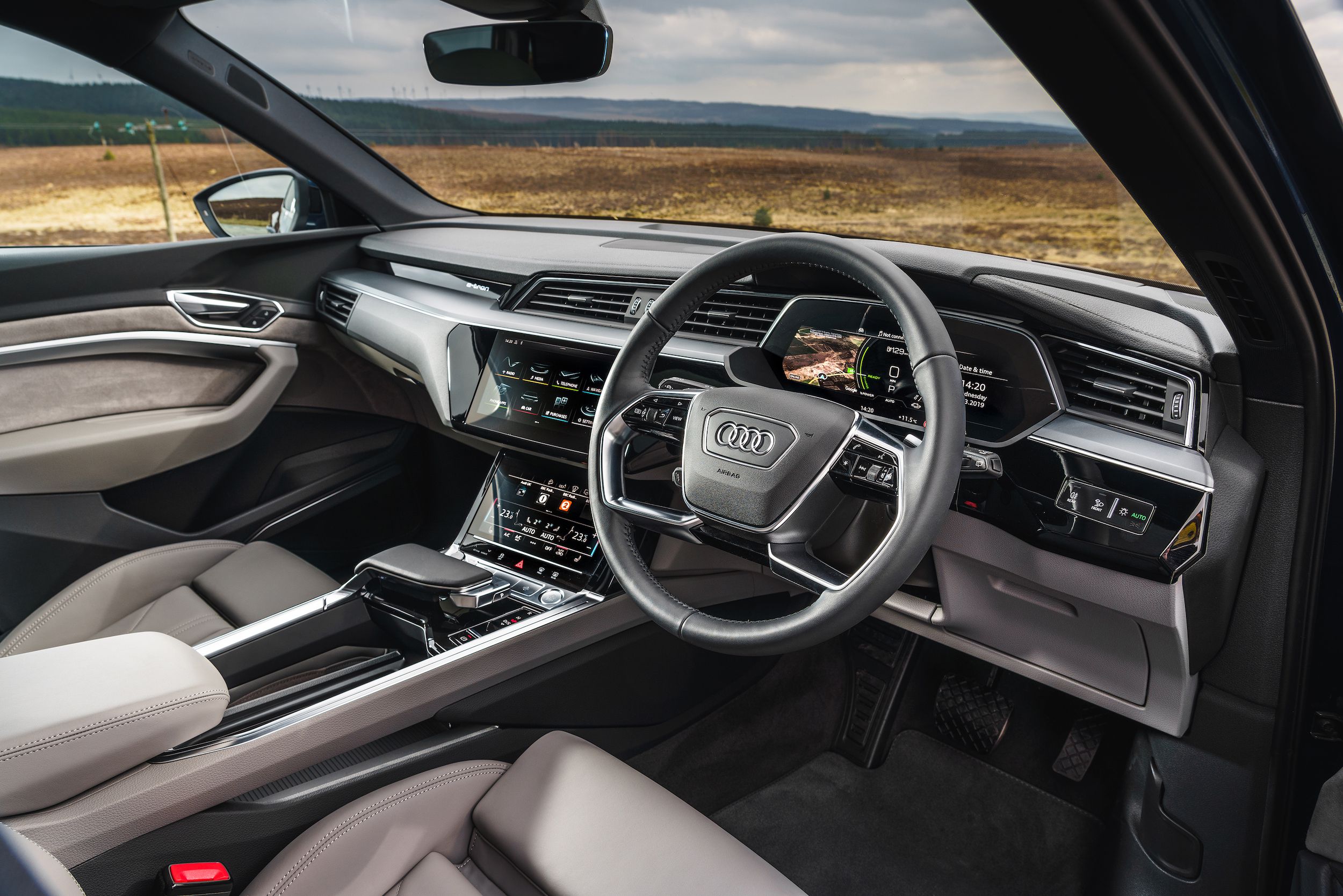 ---
e-tron Launch Edition
The Launch Edition is quite a jump in price, but you get plenty of kit to reflect that.
Additional features include Matrix LED headlights, larger 21-inch alloy wheels, upgraded leather upholstery and digital 'virtual' door mirrors, which see cameras replacing traditional mirrors. Further safety kit and driver aids are also offered.
---
Pricing
Unsurprisingly as one of Audi's flagship SUVs, the e-tron is hardly cheap, with pricing starting from £71,560 for the standard version. If you would prefer the launch Edition, the price jumps to £82,310.
However, it's worth noting the cost benefits associated with electric cars, as they're exceptionally affordable to run – particularly if you can charge at home. The e-tron is also exempt from the London Congestion Charge, which is another positive if you find yourself regularly driving through Central London.