Many firms are quickly delving into the world of performance SUVs as many buyers consider opting out of their performance estates and hot hatches into powerful SUVs instead.
Audi has had options in this sector for some time – notably with models such as the Audi SQ5 and the monstrous Audi Q7 V12, which featured a 493bhp 6.0-litre diesel engine.
But in recent years, the German firm has vastly expanded this line-up, to the point where it can be hard to pick and choose the right performance Audi SUV for you. Let us help you to decide.
Audi SQ2
Kicking off the performance Audi SUV line-up is the SQ2 – a powerful performance version of the brand's smallest crossover.
Prices start from £37,370, with the SQ2 featuring the same turbocharged 296bhp 2.0-litre engine that you find in models such as the Volkswagen Golf R and Audi S3.
Thanks to its compact size, it means the SQ2 can reach 0-60mph in 4.8 seconds and reach a limited top speed of 155mph.
Audi RSQ3
Audi's first RS-branded SUV was based on the mid-size Q3 – one of the firm's most popular Q variants.
This model was on sale between 2013 and 2016, but since then there hasn't been any other RS SUVs.
That's until now when Audi has launched an all-new RSQ3, which features the same 394bhp 2.5-litre petrol engine as that in the RS3 hot hatch – no bad thing, as it's one of the best engines around, and one of very few five-cylinder units on sale. It's also capable of an impressive 0-60mph time of 4.3 seconds.
Audi RSQ3 Sportback
The recently introduced Q3 Sportback offers sleeker 'coupe-like' styling to the Q3 range, and it's arguably the best looking out of the two models.
Audi is also offering the RSQ3 in Sportback guise, too, with this model going on sale shortly before the regular RSQ3.
It retains that car's 0-60mph time of 4.3 seconds, too. Just be aware that the Sportback version offers reduced headroom for rear passengers.
Audi SQ5
The Audi SQ5 is really the model that helped the brand to expand its range of performance SUVs.
Originally launched in 2013 as the first diesel-powered 'S' model, the SQ5 switched to petrol power in its second generation, which debuted in 2017 with a 349bhp 3.0-litre engine.
However, a couple of years later Audi has switched the SQ5 to diesel again – featuring the same 342bhp 3.0-litre V6 TDI engine that's found in other new Audi 'S' models – including the S4 and S6, for example.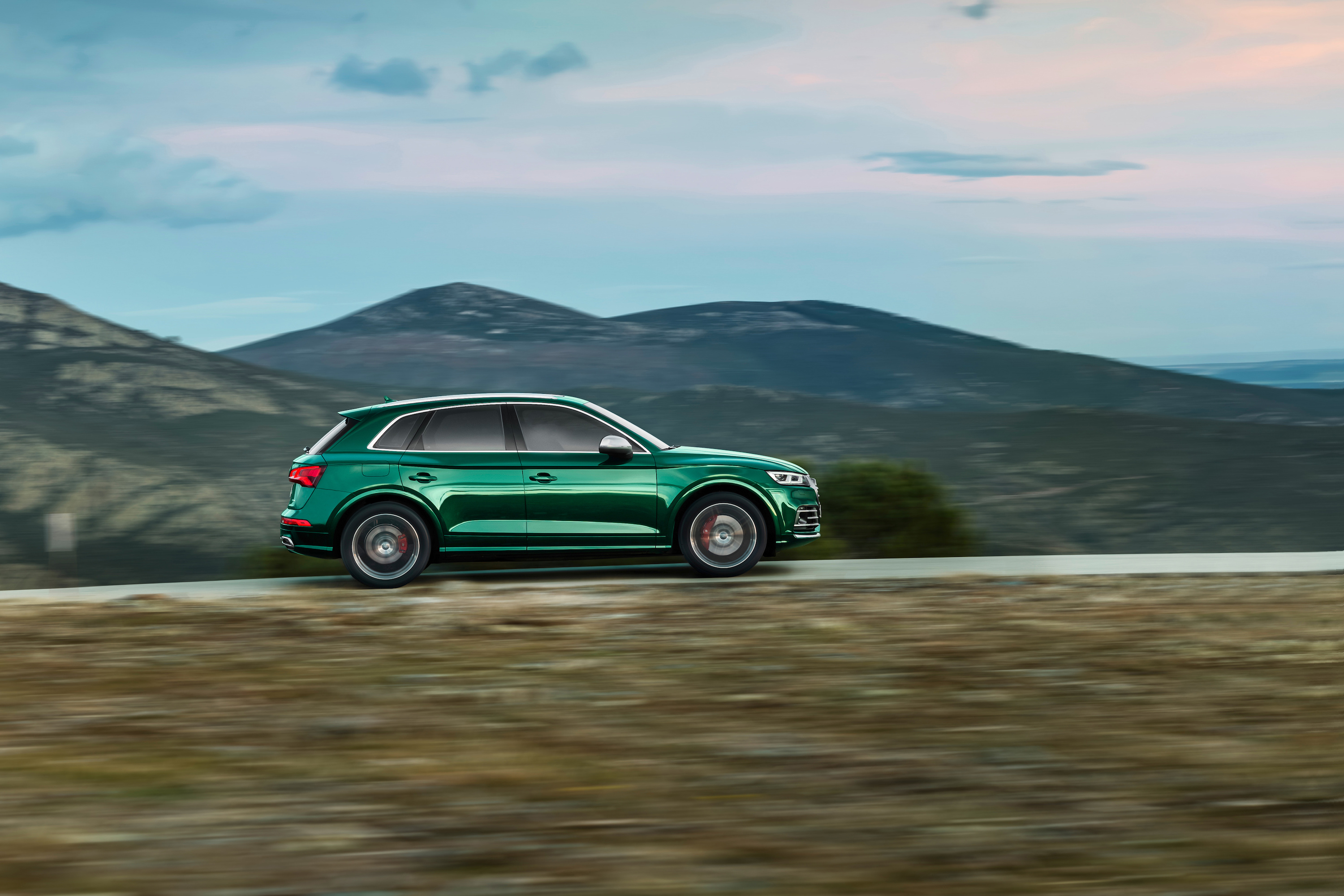 Audi SQ7
The SQ7 was Audi's second S-branded performance SUV – debuting in 2016 with a 429bhp 4.0-litre diesel engine that was able to accelerate from 0-60mph in an astonishing 4.6 seconds and reach a top speed limited to 155mph.
It was the first engine to feature an electrical-powered compressor – essentially delivering instant torque, which isn't something you typically find with a powerful diesel engine.
It was also a trendsetter by introducing mild-hybrid technology into the Audi range – something that's now been rolled out across the Audi line-up. A revised SQ7 debuted in 2019 – featuring a more tech-laden interior and a more imposing look.
Audi SQ8
Acting as the current flagship Audi Q model, the mighty SQ8 features the same 429bhp diesel engine that you find on the SQ7, and matches that car's 0-60mph figure with its outstanding 900Nm of torque.
Prices for the SQ8 start from £81,740, but rise to more than £100,000 for the flagship Vorsprung model.
While an RSQ8 derivative is rumoured to be on the way, for the meantime the SQ8 is definitely a range-topping performance SUV for Audi.

Explore the Audi performance SUV range.